Music Library
Feature Fridays Florence Price, Concerto in One Movement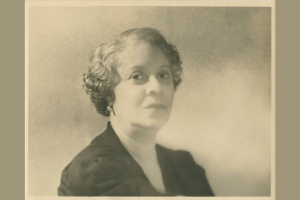 Welcome to Feature Fridays! Each Week, AU Music Library staff highlight an item from our collection. While the music library is closed, we will feature items that are available for streaming. This week guest writer Andrew Brown reviews Piano Concerto in One Movement by Florence B. Price, available from Naxos Music Library with your AU credentials. 
There is a secret to making Thanksgiving a memorable holiday. Thanksgiving in the United States traditionally happens with family members visiting from out of town, or food graciously spread out over a dining room table. I grew up with so many of these traditions as a kid, but when I was a freshman in college, I found myself a thousand miles from home without the Thanksgiving traditions I cherished. I was forced into a situation of change, and as a result, I had to change what Thanksgiving meant to me. I remember sitting in my dorm, combing through the music on my phone, and developing a real sense of Thanksgiving gratitude. My family wasn't in the dorm room with me, and the microwave meal I made for myself didn't compare to an oven-cooked turkey, but I learned to appreciate the music that shaped me over the years. Here is one of the pieces that helps me appreciate my Thanksgiving: Concerto in One Movement by Florence Beatrice Price.  
Price opens the work with a regal brass theme, as if she were a queen getting ready to speak to her audience. Flutes mimic the brass in a call and response style until both instruments fade away, and the piano arrives with dark yet optimistic cadenza. The piano tells the story of a young and resilient American, fighting for its place in the world. Brass and strings overtake the piano to play the main theme. Strings, woodwinds, brass, and piano constantly compete with one another throughout the first section until they unify at the end with a resolute d-minor chord.  
The second and third sections of Concerto in One Movement tell Florence Price's personal story. A young African-American woman living in Chicago during the 1930s, Price reminisces on nights in Little Rock, Arkansas, for the entire second section. Piano and woodwinds blend for a peaceful, nostalgic rendition of southern life. Brass instruments spill into the end of the second section and kick off the third section with a spirited Juba Dance. Juba Dances defined Southern Black culture during the early 20th Century; the dance is a celebration of the new day. Strings and brass dance with the piano until a snare drum carries all the instruments into a captivating finale. Price never returned to live in her hometown of Little Rock, Arkansas but Concerto in One Movement was her way of connecting with the past while living near urban Chicago. 
Price's Concerto in One Movement reminds us to reflect on what we have instead of wishing for what could be. Developing a sense of gratitude happens when we appreciate the past and how it brought us to the present. Family members may be distant this holiday season, but remembering old memories can help us feel connected with the ones we love.  
Florence Price's Concerto in One Movement and other great music is available from Naxos Music Library with your AU credentials. If you'd like to learn more about Florence Price and see some of her original papers and compositions, check out this digital collection from the University of Arkansas.