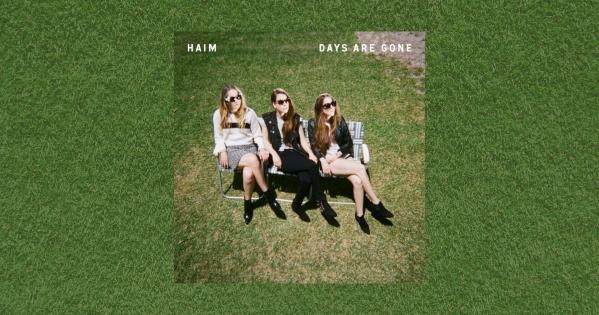 Welcome to Feature Fridays! In this series, AU Music Library staff highlight items from our collection. This week, Student Assistant Lauren Riojas reviews Days Are Gone, the critically acclaimed debut album from the band HAIM.
The band HAIM is known for their unique sound and pop-rock essence. Danielle, Este, and Alana Haim are sisters that grew up in southern California. They grew up in a house surrounded by music. As children they played music together and with their parents, even going as far as having a band with their parents called Rockin Haim. Este eventually went off to college at UCLA and obtained a degree in ethnomusicology, while Danielle began to tour with Julian Casablancas, playing percussion and guitar, and Alana was graduating High School. After years of small gigs, the girls decided to start taking HAIM much more seriously. In the years ahead they would release an EP called Forever, and their debut album, Days Are Gone. In the production of Days Are Gone, you can hear the love and care that the HAIM sisters have for their music with every layered backing vocal, and every beat. Days Are Gone set the bar for HAIM and they have only raised it since.
Days Are Gone features hits such as "The Wire", "Days Are Gone", and "Running If You Call My Name". This album is unique because the sound is such a mix of unique styles. There really is something for everyone on this album. My personal favorite is a song called "The Wire". It features vocals from all three sisters and has a very distinct pop rock sound for HAIM. I am a huge fan of HAIM and love all their music, but their debut record will always be special because it marks the beginning of an era for the Haim sisters. Since Days Are Gone, HAIM have released two albums, Something To Tell You and Women in Music PT.III. Each better than the last. If you are looking for a pop rock band to vibe with on your walk to campus, HAIM is for you!
Days Are Gone is available at the AU Music Library in the Katzen Arts Center. If you like this album, you may also be interested in St. Vincent by St. Vincent or Be the Cowboy by Mitski, also available from the AU Music Library!