On Campus
Jazz Appreciation Month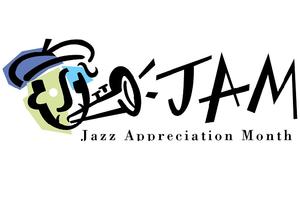 Each year, the month of April is Jazz Appreciation Month. The holiday was originally created by the Louisiana Jazz Federation under a different name – Jazz Awareness Month. The event was held during the month of October, serving as a celebration of the long history of jazz in Louisiana. Despite its success, it remained local to Louisiana.
Inspired by the Jazz Federation, Smithsonian curator John Edward Hasse started Jazz Appreciation Month – a separate event – two decades later. Honoring the history of jazz, the music festival and program spread nationally. Since 2001, the festival has grown into a national holiday as an extension of the original Jazz Awareness Month. Each April, schools and organizations from across the nation pay tribute to jazz with free concerts and educational programs. This year's edition features a multitude of female artists from all corners of jazz.
Check out these albums from the Library's streaming collection:
Let Freedom Swing - Toshiko Akiyoshi
As the face of JAM's winning poster this year, Toshiko Akiyoshi is a Japanese-American jazz pianist with fourteen Grammy nominations. Her album Let Freedom Swing represents her first collaboration with the European SWR Big Band after breaking up her band – a reminder of how talented of a composer, arranger and bandleader she is.
Structure – Terri Lyne Carrington, Adam Rogers, Jimmy Haslip, Greg Osby
Terri Lyne Carrington is a contemporary jazz icon; she's a three-time Grammy award-winning drummer, producer, educator and activist. Her album Structure – composed in collaboration with Greg Osby – is a contemporary masterpiece and is well worth exploring by fans of creative funk/jazz.
Ella And Company – Ella Fitzgerald
One of the most celebrated female vocalists in jazz history, Ella Fitzgerald created over 200 albums and 2,000 songs in her lifetime and won 13 Grammy awards. Ella And Company features some of her classic hits between 1943 and 1951, a time in which she began to show her tremendous versatility and staying power in the music industry.
You're My Thrill – Billie Holiday
Another featured artist of JAM 2020, Billie Holiday is a classic American jazz singer with a career spanning almost 30 years. You're My Thrill is an album featuring her best work during the middle period of her success, from 1944 to 1949.
Trouble Is A Man – Sarah Vaughan
Four-time Grammy award-winning and 1989 NEA Jazz Master artist Sarah Vaughan was considered "one of the most wondrous voices of the 20th century" by jazz critic Scott Yanow. Her album Trouble Is A Man features 20 of her best recordings between June 1946 and April 1948.