On Campus
Celebrating National Jazz Month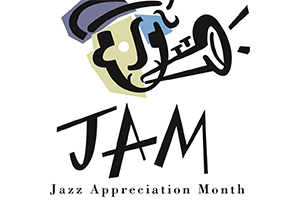 Along with National Poetry Month, April also brings National Jazz Moth. Jazz is so extremely appreciated this time around in the year that there is even a music festival held. Jazz Appreciation Month, also known as JAM, is the music festival, held every April, dedicated to commemorating jazz as an early American art form. JAM started in 2001 by John Edward Hasse who is the curator of the Smithsonian's National Museum of American History. Learn more about prominent historical figures in Jazz through these pieces from our collection.
Duke Ellington was an American leader of a jazz orchestra which he led from 1923 until his death on May 24, 1974. He was born on April 29, 1899, here in Washington D.C. and was given the name of Edward Kennedy Ellington. He was later given the nickname of "Duke" and he was consequently known for the nickname. Aside from his name, Ellington was a very talented individual and earned multiple awards such as multiple Grammys, the Pulitzer Prize Special Citations and Awards and the Presidential Medal of Freedom.
Swing that music is a book, named after Louis Armstrong's song, that attempts to trace the rise of jazz but is also an autobiography by Louis Daniel Armstrong that was originally published in 1936 by Da Capo Press. The book is additionally the first autobiography of Armstrong. 
Creek Bank is jazz pianist and vocalist Mose Allison's fourth album, which was recorded and released in 1958 on the Prestige label. The album consists of 10 original songs and was produced by Bob Weinstock.
Billie Holiday is a biography by Stuart Nicholson, about none other than thee Billie Holiday. Holiday was originally named Eleanora Fagan when she was born on April 7, 1915 in Philadelphia, Pennsylvania. The biography covers Holiday's strong influence in the jazz and swing community and her struggle with drug addiction, alcoholism and racial prejudices.  According to Nicholson's biography, Holiday unfortunately passed away on July 17, 1959 in New York City from a drug overdose.
I Put a Spell on You is an album recorded in 1964 and 1965 by American jazz singer Nina Simone in New York City. Consequently, after being recorded, the album was released in June of 1965 by Philips Records. The album went up the charts, peaking at 99 on the Billboard 200 chart.
Ella Fitzgerald is a biography by Bud Kliment focusing on the titles American jazz singer born on April 25, 1917 in Newport News, Virginia. Fitzgerald was nicknamed First Lady of Song, Queen of Jazz and Lady Ella and was known for her ability to reach a "horn-like" tone in her singing. The book additionally covers the stories of black men and women who shaped American history.
Miles Davis was an American trumpeter from Illinois who was given the birth name of Miles Dewey Davis III. Davis was signed with multiple famous record labels such as Capitol, Prestige, Columbia, and Warner Brothers. Before Davis passed on September 28, 1991 in California, he was able to win multiple Grammys during his career.
Charlie Parker was an influential American jazz saxophonist and compose who was also known for his nickname of Yardbird or Bird. Parker was born on August 29, 1920 in Kansas City and his career started to pick up around 1937. He was signed with multiple lofty labels such as Vogue and EMI Columbia. Charlie was so talented that he won multiple Grammys like many of the talented individuals mentioned prior. Parker's life was unfortunately short since he passed away on March 12, 1955 in New York City.