On Campus
Celebrating the life of Dr. Martin Luther King Jr.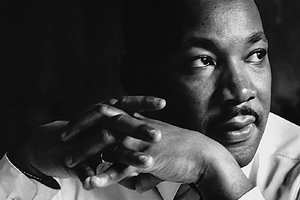 Dr. Martin Luther King Jr. was a renowned civil rights leader, preacher, and iconic world figure. Learn more about Dr. King's life and legacy with these titles from our collection.
A Knock at Midnight: This book highlights eleven of King's most powerful messages, including his final sermon, "I've Been to the Mountaintop."  
Selma This 2014 historical drama is based on the 1965 Selma to Montgomery voting rights marches. The critically acclaimed film was directed by Ava DuVernay and starred David Oyelowo and Carmen Ejogo.
Boycott This 2001 made-for-tv movie tells the story of the Montgomery Bus Boycott of 1955, of which King was the leader. The film stars Jeffery Wright, C.C. H. Pounder, and Terrence Howard.
The King Years: Historic Moments in the Civil Rights Movement Pulitzer Prize-winning author and historian Taylor Branch chronicles essential moments in the Civil Rights Movement, including the 1963 March on Washington and the March on Selma in 1965.
April 4, 1968: Martin Luther King Jr.'s Death and How It Changed America Author Michael Eric Dyson takes the reader back to King's final moments and how his death impacted America.
A Call to Conscience: The Landmark Speeches of Dr. Martin Luther King Jr. Clayborne Carson and Kris Shepard compiled some of Dr. King's famous speeches. Hear some of his greatest oratory moments.