Student Life
Feature Fridays Payton's Place, by Nicholas Payton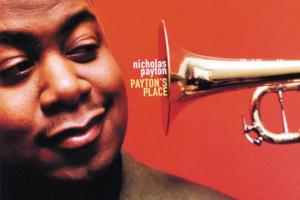 Welcome to Feature Fridays! Each week, AU music library staff highlights a CD or artist from our collection. This week, Student Assistant Ari Krysmalski reviews Payton's Place by Nicholas Payton.
Nicholas Payton, a Grammy Award winning Trumpet player from New Orleans, Louisiana, pays homage to the hard-bop jazz of the 1960s in his 1998 album Payton's Place. The album also features appearances from Wynton Marsalis and Roy Hargrove on "The Three Trumpeteers" and from Joshua Redman on "A Touch of Silver." Nicholas Payton, who was born in 1973, the son of bassist and sousaphonist Walter Payton, picked up the trumpet at the age of four and by the age of ten was playing professionally. He signed with Verve Records in the early 90s, Warner Bros. Records in the 2000s, and received a Grammy award in 1997 for Best Instrumental Solo on the album Doc Cheatham & Nicholas Payton.
This album holds a particularly dear place in my heart because it was my first exposure to contemporary jazz. Joshua Redman had graduated from the same high school jazz program I was in at the time, and as a fellow tenor saxophone player I listened to pretty much anything he was featured in, so I was naturally drawn to Redman's collaboration with Payton. I have some fond memories of listening to Payton's Place while packed into the back of a car with my bandmates.
The strongest tracks on the album, in my opinion, are "The Three Trumpeteers" and "Zigaboogaloo." The former consists of a beautifully arranged collaboration between Payton, Wynton Marsalis, and Roy Hargrove, who alternate between dueling with one another and playing in unison. Out of all the tracks on the album "Zigaboogaloo" is probably the most original, and manages to make neo-bop sound fresh and modern. Thanks to each musician's distinct tone and style, it is relatively easy to make out which musician is playing throughout the track. The album generally has a throwback vibe, but Payton's playing and originality make it stand out among contemporary jazz albums.
Payton's Place (1973) is available to stream online through Music and Dance Online. Other Nicholas Payton albums available on the service include From This Moment (1995), Gumbo Nouveau (1996), and Dear Louis (2001). The database can be generally accessed here with American University login.