On Campus
Librarian Profile: Mary Mintz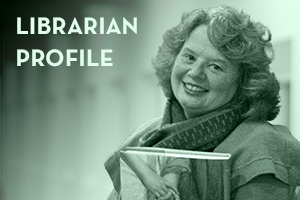 A member of the American University community for thirty years, Associate Director for Outreach Mary Mintz developed a deep love of literature and learning early on, growing up as the daughter of a high school and college English teacher in her native North Carolina. Later, she knew that she wanted to "make a difference in the academic experience of college students" even before she completed her master's degrees in library science and English literature. After her own deeply rewarding college experience as a member of the first entering class to admit women at Davidson College, Mary knew that academia was the right fit for her. When Mary arrived at AU in the 80s, the university was in the early stages of an evolutionary process in terms of growth, reputation, and intellectual engagement. Mary describes the AU student of today as "committed, caring, and—simply awesome." As a member of the honors applications review process, Mary sees firsthand the "engagement, passion, and ideals" of the student body.
Where can you find her?
Mary is the Library liaison for about ten different undergraduate groups, including AU Honors students, AU Scholars, Frederick Douglass Distinguished Scholars, the University College, and the Washington Mentorship Program. Undergraduate support efforts put Mary in contact with a variety of students, faculty, staff, and administrators.
In addition to providing research assistance through personal appointments and work at the Reference Desk, Mary meets with the orientation leaders for incoming students to share information about the Library with freshman and new transfer students. She also encounters new students through her library instruction in College Writing and other courses. This puts her in the unique position of working with students to develop the fundamentals of research and writing and then, in her role providing capstone support for History and Literature students, seeing how their work has progressed. She is able to see the full circle of undergraduate progress from freshman to senior year. Mary considers this to be an extremely gratifying element of her job.
In addition to these ongoing efforts, Mary always is particularly happy to discuss literature and history, especially the work of Jane Austen and Austen's era. She is an enthusiastic member and officer of the Jane Austen Society of America.
Why she loves her job
Mary sees "student interaction and response in the classroom and the challenge of assisting students with sophisticated and complex projects" as just a few of the many rewards of Mary's work as a librarian. She is passionate about the emphasis librarianship places on service. In her instructional work, Mary strives "to create an engaging classroom environment" and enjoys working with faculty to plan successful class sessions. Mary also likes having the chance to connect with students on a more personal level.
In the Community
Mary long has taken a very active role in university life. In many years, she has served on the university's Faculty Senate, including serving as chair of that body for two years. She also served on the university search committee for the current University President.
Mary strongly encourages all incoming students to pay a visit to the Library to learn more about the research resources available to them—and to "ask a librarian" whenever they need assistance with research. Her hope is that AU students will take their research skills with them beyond the university, just as they take their engagement, passion, and ideals.