On Campus
AU Library Helps Students Prepare for the 2020 Election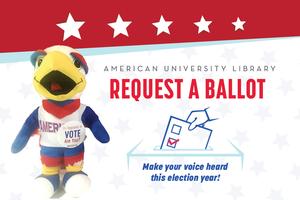 This year, American University Library brought a virtual "Request a Ballot" week to students. The week-long event allowed students to interact with Library personnel and request information about this year's election through our online chat. Students could also receive information about voter registration, verify their voter registration, and requesting mail-in ballots through our self-service online materials.
Request a Ballot week is an extension of the 2018 Absentee Ballot Day, created by Gwendolyn Reece, Associate University Librarian and Director of Research, Teaching, and Learning. During Absentee Ballot Day, over 1,000 students registered to vote or filled out an application to obtain an absentee ballot. Two years later, the Library was still able to help students prepare for the upcoming election while the campus navigates the pandemic.
This year Request a Ballot Week began with extensive research from our Librarians, who researched voter information by state. That research was turned into a subject guide with detailed voting information. Students also received personalized emails with their state-specific voter information. Local students could also visit the Library to print their applications for free or receive envelopes and stamps for mailing ballots. American University Student Government (AUSG) also provided support in this year's event by promoting to the student body.
For students who missed the event, state-specific information is still available online.  You can also contact Gwendolyn Reece at greece@american.edu for more assistance.