Student Life
Feature Fridays Company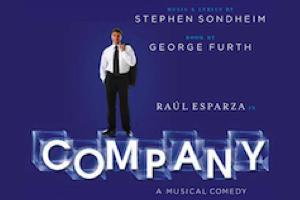 Welcome to Feature Fridays! Each week, AU Music Library staff highlight an item from our collection. While the library is closed, we will feature items that are available for streaming. This week's guest reviewer Hannah Ruth Wellons, Bender Library operations staff, reviews the 2006 production of Company, by Stephen Sondheim, available via Alexander Street Press (video) and Naxos (audio).
When non-musical-theatre-obsessed people think of Stephen Sondheim, I assume they usually think of musicals like Sweeney Todd or Into the Woods. Even more likely, I bet they think, "Who?" Sondheim, the composer and lyricist for sixteen original stage musicals, is considered by many to have reinvented the American musical. He is an unbelievably clever writer who uses humor and truth to illuminate dark and difficult elements of the human experience. His music and lyrics are complex and sophisticated and have been extensively studied by theatre and music academics alike.
When I, someone who is very much musical theater-obsessed, think of Stephen Sondheim, I think of a musical called Company. I first stumbled upon it in high school, after seeing the video recording of the 2006 Broadway production starring Raul Esparza on YouTube. It was love at first watch for me, and I quickly recognized the beauty and intricacies of Sondheim's music and lyrics.
Company is about a lot of things. It's about one man, Bobby, examining what it means to be in a relationship through three partners of his own, and through the ups and downs of his friends' marriages. It's about what it means to be alone. It's about what it means to have constant "company." At its heart, Company is about being alive, and all that comes with it.
Written as a "concept musical" with no linear plot, the show centers around Bobby's 35th birthday. Five couples—his friends, all married or engaged—and three women he's dated in the past gather together to celebrate his 35th birthday. As he puts it, "What sort of friends celebrate your 35th birthday? Mine." Throughout the piece we meet each of the three girlfriends and the five couples in a series of vignettes, culminating in the final number sung by Bobby alone onstage in which he expresses the desire to find someone with whom he can face the challenge of "Being Alive." As his friend Amy remarks, "You have to love some body, not just some body." In a time when many people want nothing more than to connect with the people they love, Company is a hopeful but grounded examination of a man who wants just that: connection and company.
Although Company has been revived eleven times, the 2006 Raul Esparza production has one very noteworthy difference from the other ten—all of the actors also form the orchestra. Raul Esparza, who plays Bobby, plays percussion and piano. Heather Laws, who plays Amy, plays French horn, flute, and trumpet. The actors' connection both to the lyrics and their personal musical lines—vocal and orchestral—makes the musical even more effective. Actors are constantly switching between singing and playing, sometimes doing both at once, in what can't be described as anything other than a musical miracle. In several key moments of the show, some are singing, some are playing, some are dancing, all are acting, and many are doing two or more at once.
The geniuses behind this feat are not just the actors. The music director, Mary-Mitchell Campbell, in conjunction with original orchestrator Jonathan Tunick, adapted the musical to be playable by the actors. They also adapted individual instrument tracks so that everything that needed to be covered was covered, either by the actors or by the supplementary orchestra behind the stage.
In light of this aspect of the musical, I'd like to look at two songs that take advantage of the actors performing vocally and instrumentally. The first is sung by the three girlfriends and is called "You Could Drive a Person Crazy." In the song (written in the style of the Andrews Sisters) they complain about how Bobby is a bad boyfriend, singing in three-part harmony while playing alto saxophone. Traditional back-up vocal lines are replaced with alto saxophone lines, and this switch is very effective. The song is meant to be funny, mocking Bobby, and by replacing certain lines with the "honk" of an alto saxophone as an exclamation point made the song funnier and illustrated the girlfriends' anger well.
The second song I want to look at is the final number of the musical, "Being Alive." In this piece, we see what Bobby has learned about love and connection with other people. It starts with Bobby alone at the piano. As his friends offer their advice and encouragement one by one—" "Don't be afraid it won't be perfect; the only thing to be afraid of, really, is that it won't be."—they join in on their instruments until they take over the accompaniment and Bobby leaves the piano. As the music swells, Bobby is surrounded and supported physically and musically by his friends. He remarks that "Alone is alone, not alive." In this final moment of the show, Bobby is not alone. He is alive.
I cannot recommend this recording of Company strongly enough—it's the best one out there. It's an excellent listen for theatre and orchestra lovers alike, and a great introduction to the beauty of Sondheim for those who haven't listened to him before.
You can listen to Company through Naxos or watch through Alexander Street Press, both with your AU credentials.