On Campus
5 Little Known Archives and Special Collections Tidbits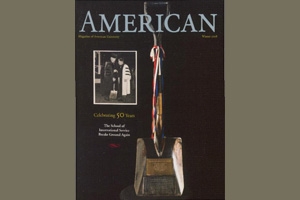 1) Our rarest collections are protected by a gas fire-suppression system.
Halon is a liquefied gas that is used to extinguish fire by disrupting the combustion process. When the halon evaporates, it leaves no residue. This quality makes it ideal for the protection of rare and sensitive materials. While systems like these were introduced in the 1960s, by the 1980s it was discovered that halon is an ozone-depleting substance. Consequently, its production and import were banned under the Clean Air Act of 1994, but existing systems were deemed legal. We purchase recycled halon to recharge our existing system, so that we can protect our books and still stay green.
2) We have the best view of campus from the Archives Reading Room.
Archives and Special Collections is located at the front of Bender Library on the third floor. The windows in these offices and the Archives Reading Room overlook the quad, allowing visitors to enjoy our beautiful arboretum campus in all seasons. AU's campus photographer and others regularly stop by to take photographs from this expansive viewing spot.
3) Our oldest item is a book from 1468.
Our collections date from the 15th century to the present. The oldest item is a volume of sermons by Saint Augustine, Bishop of Hippo that was printed in Cologne, Germany by Ulrich Zell circa 1468. The text, Incipit Sermo Beati Augustini Episcopi de Conmuni [sic] Vita Clericorum, is bound in a very rare and expensive material, Moroccan goat hide, with the lettering done in pure gold.
4) We have copies of the original plans for campus including the one prepared by Frederick Law Olmsted's firm.
Take a look at the AU campuses that could have been! AU initially consulted with the firm of Frederick Law Olmsted, Sr. the father of American landscape architecture, who designed Central Park in New York and the U.S. Capitol grounds. The Olmsted firm's design from 1895 was abandoned in favor of a more classical and formal design by Henry Ives Cobb dating from 1898.
5) We have a few artifacts including a snow globe featuring Chairman Mao and the shovel used by President Eisenhower for the groundbreaking of the original SIS Building.
Though Archives and Special Collections mainly collects audiovisual materials, books, and documents, we have acquired a variety of memorabilia and three dimensional artifacts over the years including several examples of freshman beanies, memorabilia created for AU's 100th anniversary, and plaques and signs from buildings.