On Campus
Summer Celebration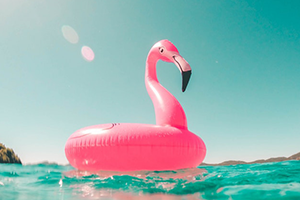 After a long winter, we are able to expect some warmer weather! Get excited for summer by checking out some of these pieces from our collection.
"Best Summer Vacation Spots." The description is right in the name! If you are having trouble figuring out a vacation spot for the summer, this 2014 article may help be your guide. All the locations stated in the article are luckily within North America.
Summer Solstice is the first indication of the summer season. The solstice is one of two days a year when the Sun is at its highest or lowest point in the sky. Depending on the position of the sun, it determines the seasons. The summer solstice is when the Sun is at its highest and directly above the Tropic of Cancer on June 21st to 22nd. Learn more about terms like these through the several forms of the Oxford Dictionary in our collection!
The Fourth of July, is a book about the romantic story between a young man and woman during the Fourth of July. The romantic story is by Joyce Livingston and is clearly named after United States' Independence Day. On July 4, 1776, the Continental Congress pronounced the thirteen colonies were not under the British monarch and signed the Declaration of Independence. From then on, it has been a popular summer holiday. 
Spirit of America. What better way to get excited for summer than listening to the Beach Boys' rock album? Spirit of America was released on April 14, 1975 through Capital Records. Some songs you may recognize from this album are "Hawaii" and the album titled track "Spirit of American."
Hotter Than July is a musical album by the classic Stevie Wonder that was released on September 29, 1980. The album contains the three genres of pop, funk and R&B! Some songs you may recognize from this album are "Lately" and "Master Blaster (Jammin')." Get your summer vibes by listening to the album!