Arts
Popular Ukrainian Folk Songs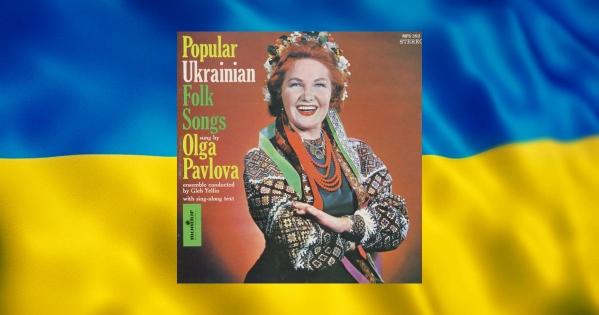 Welcome to Feature Fridays! Each week, Music Library staff highlight an item from our collection. This week, student assistant Ariel Krysmalski reviews Popular Ukrainian Folk Songs, available for streaming from Alexander Street Press with your AU login.
This article highlights Popular Ukrainian Folk Songs featuring singer Olga Pavlova and an ensemble conducted by Gleb Yellin. It hopes to serve as a respectful acknowledgement of current events. The selected music is also included in the Music Library's display, which pays tribute to select Ukrainian music from our collection, although this particular album is accessible online.
The featured artist of this album, Olga Pavlova, was a Canadian-born singer and concert soloist with Ukrainian roots who spent much of her career performing in the United States. Pavlova was also an active member of the Assumption Ukrainian Catholic Church and the Ukrainian American Club. This compilation is part of a series on Ukrainian music sung by Pavlova, which was separated into three separate compilations and published by Monitor Records between 1963 and 1965. In this album, Pavlova sings about themes shared by many folk songs, including but not limited to nature, love, and cooking.
The first track on this album kicks off with Pavlova's singing, which is mirrored by violin lines that sometimes echo the main vocal melody, and often play counter melodies which contrast and harmonize with Pavlova's singing. Accordion, piano, and traditional string instruments also play prominent roles in the ensemble. The ten tracks in this compilation of Ukrainian folk music alternate between lamenting vocal and violin melodies and more lively music paced by up-tempo piano and accordion playing. Consequently, this compilation contains music for almost any mood. In general, the tracks from this project provide a charming and sweet window into Ukrainian folk music.
Popular Ukrainian Folk Songs is available from Alexander Street Press with your AU login. For additional Ukrainian music, check out our display in Katzen 150, pictured below, or additional albums of Ukrainian music from Alexander Street Press: Vorotarkchik, Veseli Muzyky: From Kiev to the Black Sea – Folk Music from Ukraine, and Songs and Dances of Ukraine. You may also be interested in this video of the AU Symphony Orchestra and Band performing the Ukrainian National Anthem.