Achievements
Meet this Year's Undergraduate Student Employee of the Year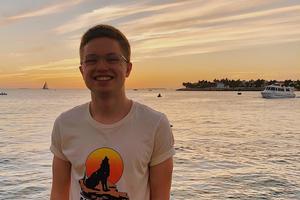 Jacob Tracey was recently named Undergraduate Student Employee of the Year for Washington, D.C. by the National Student Employment Association (NEASEA.) Jacob is a Student Assistant at the Music Library and excelled at applying the National Association of College Employers (NACE) Career Readiness Competencies to his student employment position. Criteria included communication, digital technology, problem-solving, work ethic, intercultural fluency, leadership, and teamwork. His supervisor Amanda Steadman, Music Library Coordinator, nominated Jacob for the award.
A senior in the Kogod School of Business, Jacob has worked at the Music Library since 2017. He is known as a very engaging and outgoing student and a great advocate for the Music Library by promoting its services. His duties include assisting patrons find and check out materials, processing new items, and researching music. In addition to working at the Library, Jacob is a member of Mu Beta Psi and is an accomplished guitarist and singer. Jacob has also performed at the Katzen Soundbites concert numerous times, including with the Jazz Combo and other Music Library personnel. Most recently, Jacob can be seen performing in our #SoundBitesFromHome digital music series.
When asked what he likes most about working at the Music Library, Jacob thinks of two things: "There are two things I really love about working at music lib, my coworkers and the music! I am so blessed to work with not only an incredible student staff but also under two incredible bosses, Amanda and Nobue Matsuoka. As a music nerd, I also love discovering new music and listening to classics on CD."
After graduation, Jacob plans to work in the music industry, focusing on music and marketing. He also hopes to move to Nashville later this year.
The Library is incredibly proud of Jacob and his accomplishments during his academic tenure. Congratulations Jacob!