Research
American University and NIMH Study Game Therapy as Treatment for Anxiety Pilot project game theory findings could help victims suffering from PTSD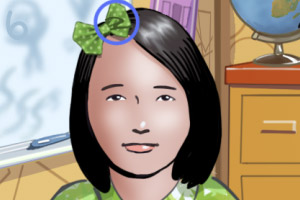 With the start of a new school year, added pressures and expectations often cause anxiety levels in young people to increase. According to a recent study, of more than 400 parents surveyed, 53 percent cited homework and schoolwork as the driver of the most stress for their kids. The American Psychiatric Association's "Stress in America" survey finds that high school students report stress levels that top those of adults and that half of all college students have felt "overwhelming anxiety" sometime within the last 12 months.
American University's Game Lab in partnership with AU's School of Communication and its College of Arts and Sciences is working with the National Institute of Mental Health (NIMH) to launch a new neurogaming initiative that could reduce stress levels for children with severe anxiety and adults with post-traumatic stress disorder (PTSD). The initiative will develop a prototype game based on the landmark neuroscience work of NIMH researcher Dr. Daniel Pine that seeks to reduce the negative impacts of anxiety and extreme stress. 
A key member of the AU team, Assistant Professor in the School of Education, Lauren McGrath, Ph.D., says this kind of health game design shows great promise. The clear strength of this project is that the AU game design team delved deeply into the clinical basis of the treatment so that they could develop innovative connections with game mechanics. It's exciting to see the worlds of clinical psychology and gaming coming together with the shared goal of improving lives.  
The project, which began on July 1, will create a gaming therapy that will be tested in a small NIMH clinical trial next February. Pine and American University game developers will leverage a new neuroscience approach, attentional bias modification, to gradually help children who are afflicted with extreme anxiety to develop normal responses to stressful situations in place of the highly reactive responses that can lead to panic attacks and other debilitating reactions. 
"We have extensive data in game research that makes a direct correlation between well-designed games and player engagement," said AU Game Lab Director Lindsay Grace. "This project seeks to fuse that knowledge of game design with Dr. Pine's work in bias modification to help people focus in ways they might not otherwise be able to," he added. 
The AU team discovered a significant connection between a particular type of game, hidden number puzzles, that aligns closely the neurologic training the NIMH team developed. "With this type of gaming therapy," noted lead designer and Visiting Scholar Bob Hone, "players will mimic the same kind of 'threat-avoidance' strategies of the proven clinical therapy, and have fun at the same time. The hope is that by embedding the neurological training within a compelling game-based experience, patients will be more engaged with the interactive program and thus able to achieve better results with treatments that can be done at home."
In addition childhood anxiety issues, the research team believes the work could also help some eight million men and women in the United States who suffer from PTSD a year.
The first hidden number puzzle in this series is now available online. The puzzle mimics the lab-based brain exercises the scientists at the National Institute of Mental Health developed to aid children with anxiety disorders by helping children learn to avoid looking at mean and angry faces. The AU Game Lab is holding a contest to see who can find the numbers 1-20 hidden in an image. The first 50 winners will be given four additional puzzles in the series and the first 10 winners may have a chance to help design the next set of puzzles. The contest ends September 28th."
This project demonstrates the potential of health games to produce beneficial treatments to these serious conditions," said Grace. "We look forward to the completion of the prototype as this gaming strategy could improve the lives of countless children in an engaging and effective way."