AU's Center for Media & Social Impact Receives $1.1 Million Grants support civic storytelling and the role of comedy in social change
American University's Center for Media & Social Impact, based in the School of Communication, has received two 2020 grants, totaling $1.1 million, to support expansion in two key initiatives: civic storytelling for social justice and comedy for social change. As creative work undergoes transformation in the digital age, funding will support key projects the center has built and launched over the past several years, including the national Story Movements convening, the Yes, And Laughter Lab co-created with Moore + Associates in partnership with Comedy Central, and Comedy ThinkTanks.
"Connecting the work of media organizations, philanthropic institutions, the entertainment industry and social justice organizations to tell untold stories and stories that address global challenges is paramount," said Caty Borum Chattoo, executive director of CMSI and assistant professor in AU's School of Communication. "Thanks to the MacArthur Foundation and Luminate, working with our partners, we can continue to elevate comedy and its role in social change as well as the work to propel civic storytelling forward into the 21st century."
The $600,000 John D. and Catherine T. MacArthur Foundation grant will fund the center's work in civic media – or stories that positively influence the public for the purposes of social good. Fostered by the Internet age, the forms are diverse and vibrant. Traditionally marginalized communities are leveraging digital media tools and trends in media to tell their own stories and to empower their communities – and, increasingly, working in collaboration with the entertainment industry for widespread marketplace attention. In the participatory media era of YouTube and streaming networks, the entertainment industry and social justice organizations converge to collaborate and distribute stories that entertain and motivate audiences around issues that matter – and CMSI plays a leadership role within this growing field of practice and research.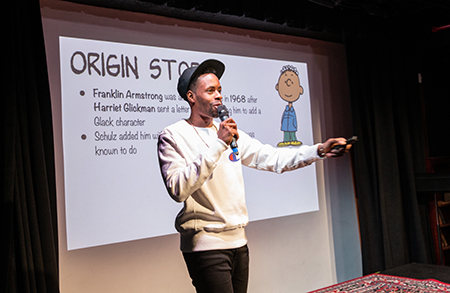 Mamoudou N'Diaye, finalist at the inaugural Yes, And Laughter Lab, 2019
"Digital media continues to play a major role in transforming social narratives, yet there are few opportunities for media makers and scholars from across a range of practices to learn from each other, strategize together, and bring forward new opportunities," said Jen Humke, senior program officer at the MacArthur Foundation. "American University's Center for Media & Social Impact is playing a key leadership role in this emerging field and we are proud to support the creation of media using new tools, practices, and platforms to build a more just and equitable tomorrow."
As part of its leadership role in civic storytelling, CMSI is home to pathbreaking work focused on comedy and social justice – the nation's first university-based center to launch both research and creative initiatives in this area. As the work of comedians -- those in the United States and abroad -- is informed by social issues and includes new and diverse voices, the center is launching projects that study and produce comedy for equity and social good. CMSI conducts research about these trends, and its team also produces new comedy, in collaboration with social justice organizations and professional comedians.
The $500,000 Luminate grant will fund the next installments of the successful Yes, And Laughter Lab. The lab invites comedians to pitch their work on social issues, thereby building a pipeline and fostering a new approach for how comedians, social justice leaders, philanthropy, and Hollywood industry leaders work together. The grant will also support CMSI's Comedy ThinkTanks program, which produces new comedy for distribution that is co-created by social justice organizations and professional comedians.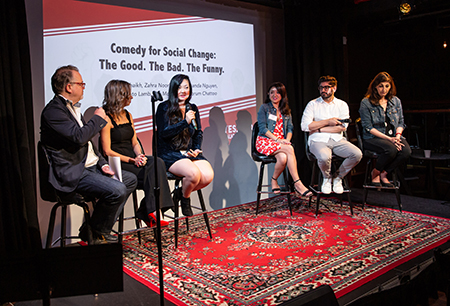 Panel discussion on comedy for social change, 2019
"Stories are immensely powerful in informing and influencing the way that we see the world and make decisions. Comedy, in particular, offers a compelling way to articulate and engage some audiences on the pressing – and often complex – issues affecting our societies," said Nishant Lalwani, director of Independent Media at Luminate. "This is our first investment that supports comedy around civic issues and social justice, and we're excited to see the impact that CMSI initiatives will create."

Under Borum Chattoo's leadership over the past five years, CMSI has expanded its full-time staff and launched international and national program areas that focus on entertainment and social change. As part of this expansion, CMSI has appointed comedian Bethany Hall, formerly a comedian-in-residence at the center, to serve as Creative Director of Comedy Initiatives. Notably, the center's work focuses on traditionally marginalized communities, groups and topics, and fosters diversity and inclusion, a key initiative of American University.

In addition to the MacArthur Foundation and Luminate, CMSI's work has been funded by the Gates Foundation, Atlantic Philanthropies, National Endowment for the Arts, Ford Foundation, Pop Culture Collaborative, Independent Television Service, Fledgling Fund, Unbound Philanthropy, Open Society Foundations, Participant Media, Univision Communications, Comedy Central, and more.

Borum Chattoo is the author of two books on media and social change, both forthcoming in 2020: A Comedian and Activist Walk Into a Bar: The Serious Role of Comedy in Social Justice, with Lauren Feldman (University of California Press), and Story Movements: How Documentaries Empower People and Inspire Social Change (Oxford University Press).