Communications
Center for Media & Social Impact Hosts Convening on Media and Social Justice
In the participatory age of digital media, media gatekeepers have changed. Social justice movements and organizations are leveraging narratives to push for equity and justice. From investigative journalism to virtual reality to Hollywood advocacy to comedy, there's a new movement in "civic media for social justice," and AU's Center for Media & Social Impact (CMSI) is playing a leadership, research, and convening role in this burgeoning field and practice.
In January 2018, CMSI joined a group of inaugural grantees as part of the John D. and Catherine T. MacArthur Foundation's support of participatory civic storytelling in the digital age. As a centerpiece of this work, on March 1-2, 2019, CMSI hosted Story Movements, a two-day convening examining platforms of civic media storytelling through the lens of social inequality and social justice. The conference responds to the vitality of the moment in civic media platforms and stories, as well as the urgency of social justice and inequality, from racial injustice to gender-based violence to poverty and more.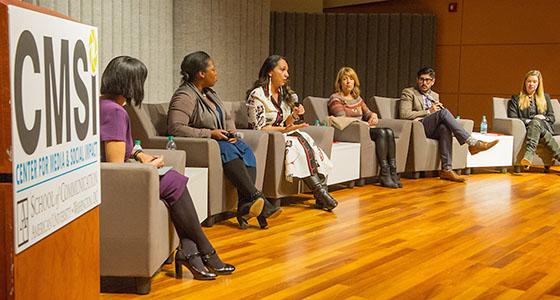 CMSI Director, Professor Caty Borum Chattoo, who launched Story Movements as a pilot in 2016, opened the convening with by establishing a perspective about the role of creativity and culture in social change: "Art and creativity are together the beating heart of storytelling, and they compel us to feel something, and to remember it deeply. The creativity that makes great storytelling that moves us is not predictable or formulaic. It can be messy. Strategy that leverages narrative is not key messages. It needs freedom to be evocative, it needs authenticity to move us."
In her opening remarks, Jennifer Humke, Senior Program Officer and director of the MacArthur Foundation's Participatory Civic Media program (under the Journalism and Media Program at the foundation) said the foundation supports Story Movements to encourage individuals and citizens to create media using new tools, practices, and platforms, and make sure diverse voices are heard.
Representative organizations at the sold-out national convening included leading philanthropists, media organizations, filmmaking groups, and social justice organizations, including the Sundance Institute, Firelight Media, The Peabody Awards and Peabody Media Center, Tribeca Film Institute, POV on PBS, PBS' Frontline, Color of Change, Define American, Center for American Progress, Tribeca Enterprises, Maryland Public Television, Ford Foundation, Gates Foundation, Center for Civilians in Conflict, National Endowment for the Humanities and more.
The conference speakers underscored how the question is key to building social movements and shaping perspectives around civil rights and marginalized communities. Chattoo also said, "We need both social critique and civic imagination in cultural narratives to create a better world -- not just tell stories about what's wrong, but to imagine what it looks like when we endeavor to create a better, more just future."
The convening comprised of five dynamic speaker blocks spread over days. Speakers shared a stand-alone TED-style talks about their work and the role of narrative and storytelling in positive social change. Audience participation was supported through interactive question sessions and "fishbowls" that invited participants to share their work in casual discussion circles between formal talk sessions.
CMSI will publish a comprehensive Story Movements report, speaker videos, and a wrap-up video over the next several months.
Want to know more about Story Movements and CMSI? Sign up for the CMSI newsletter and follow CMSI on Facebook, Twitter and Instagram.