Bronté Burleigh-Jones Named Chief Financial Officer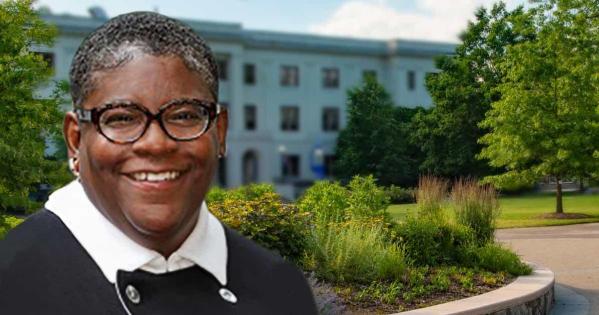 American University President Sylvia M. Burwell announced the selection of Bronté Burleigh-Jones as chief financial officer, vice president, and treasurer. As the principal steward of university finances and campus facilities, Burleigh-Jones joins AU at a time of great momentum. The university is preparing for in-person classes and residential experiences in the fall semester, and with innovative facilities like the new Hall of Science and leading-edge faculty research, is building on its #35 ranking among most innovative universities. Burleigh-Jones will begin her role on Oct. 4.
"Bronté comes to AU at an important moment of opportunity as we continue major university initiatives including the ongoing implementation of the Changemakers for a Changing World strategic plan, launch our newly approved Campus Plan, and advance the Change Can't Wait comprehensive campaign," said AU President Sylvia M. Burwell. "We are pleased to have a seasoned financial executive and distinguished AU alumna with her depth of experience who shares the values that shape our university's mission."
"I am honored to have the opportunity to return to American University and contribute to the strategic goals of the university," Burleigh-Jones said. "This is an extraordinary community that has played a major role in my life and career, and this double Eagle looks forward to returning to the nest at 4400 Massachusetts Avenue to support our outstanding students and help build AU's future."
Burleigh-Jones has served as the vice president of finance and administration at Dickinson College in Pennsylvania for the past eight years. In this role, she led a college-wide financial task force to create a plan for revenue enhancements and operational efficiencies, developed a multi-year facilities management framework that included LEED-certified new construction, and implemented an institutional operating reserve policy.
Prior to joining Dickinson College, Burleigh-Jones was the treasurer at St. John's College and vice president for finance and administration at Huston Tillotson University. She holds a Ph.D. in higher education administration from the University of Texas and graduated from American University's Kogod School of Business with a B.S. and an MBA. During her time at AU, Burleigh-Jones was a Frederick Douglass Scholar and an active member of the Black Student Alliance and the Nu Alpha Chapter of Delta Sigma Theta Sorority, Incorporated.
Burleigh-Jones will succeed Doug Kudravetz, who served the AU community for more than 35 years.