Education
School of Education Continues Commitment to Professional Development for Panama Teachers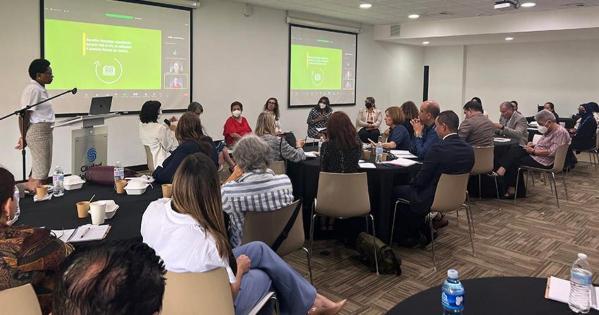 Teachers want to teach to the best of their ability, and they need professional development to keep their skills up to date. A new report by American University School of Education and the Educational Research Center of Panama reveals gaps in the professional development Panama teachers receive and makes recommendations for changes.
Both the report and resulting teacher training for Panamanian teachers, part of an AU program called Panama Teach, have been made possible thanks to a generous gift from AU Board of Trustees member and alumnus Fernando Lewis, Kogod/BSBA '85, his wife Susana, and their family as part of the Change Can't Wait campaign.
"We are very happy in joining American University's School of Education in the support of Panama Teach," Lewis said. "The survey conducted among teachers in Panama's public education system is a powerful tool that has helped identify areas of opportunity and improvement in the development of this vital resource in the educational system. An investment in education is an investment in the future of a nation."
The new teacher training opportunities in Panama are expected to take place in 2023.

"Education research shows that professional development is central to teacher growth," said Nadia De León, who advises the Panama's Ministry of Education and directs the Educational Research Center of Panama, known as CIEDU. "When we improve the professional development of teachers, we will improve the learning outcomes for our students."
More than 1,000 teachers and education officials in Panama responded to a survey about professional development, answering questions about their experiences and offering thoughts on opportunities to enhance skills in areas such as technology in the classroom and subject matter expertise. They answered questions about the type and content of trainings, usefulness of topics, opportunities for feedback and reflection in trainings, and the role of non-governmental organizations that provide professional development. Dr. Jermain Griffin, the lead researcher from AU, held follow-up individual interviews with stakeholders and focus group interviews with teachers. AU and CIEDU researchers analyzed and synthesized these data for the report.  
Overall, teachers said that trainings are outdated, they are not given enough time for professional development, and trainings don't provide opportunities for connection with peers or to the schools in which they teach. They lack outlets for feedback, reflection and mentoring, and trainings do not align with the actual subjects they teach, they reported. Of the 649 virtual teacher trainings that appeared on the EducaPanama website in 2020, only 178 focused on content knowledge.
In the aftermath of the COVID-19 pandemic, providing quality public education is as urgent as ever, De León said. Panama experienced one of the longest school closure times of all countries around the world, which resulted in widening the existing gaps in learning outcomes for students, she added. Across Panama, teachers teach in areas without electricity and internet access. During school closures, access to virtual education was limited for many students, De León said. Nearly half of teenagers that should be in high school are not enrolled, and there are high dropout rates in both middle and high schools in Panama, according to CIEDU.
AU Ties to Panama
Across AU's eight schools and colleges, there are more than 500 alumni from Panama. Panama Teach is the latest example of a partnership between AU and Panama that has focused on improving teacher development and skills. Previously, AU School of Education was one of 20 participating universities in Panamá Bilingüe, a national initiative in Panama aimed at improving second language proficiency for Panamanian students.
From 2014 through 2019, AU hosted 285 English teachers from Panama to improve their teaching by studying language teaching methodology and strategies, project-based learning, and educational leadership. AU School of Education graduate students and alumni have assisted in both Panamá Bilingüe and now Panama Teach, said Danielle Sodani, director of the Institute for Innovation and Education and School of Education faculty member who contributes to Panama Teach. Mark Forsberg worked with Panamá Bilingüe and is a graduate of the International Training and Education Program. Bernard Reeves is pursuing an education doctoral degree in Education Policy and Leadership and helped with Panama Teach.
"We continue to have a strong relationship with teachers in Panama and transitioned to Panama Teach with a focus on policy and a broader view of teacher development across the country," Sodani explained.
Indeed, the program is having an impact on policy and informing several next steps. An event in Panama to raise awareness about the report and connect with officials was well attended by the minister of education, representatives from teacher unions, government, universities, and NGOs. In addition to teacher trainings, the research team is using the findings to push for new legislation in Panama and creation of an institute for professional development and teacher well-being.