A $5 Million Gift to American University Advances Cyber and Economic Security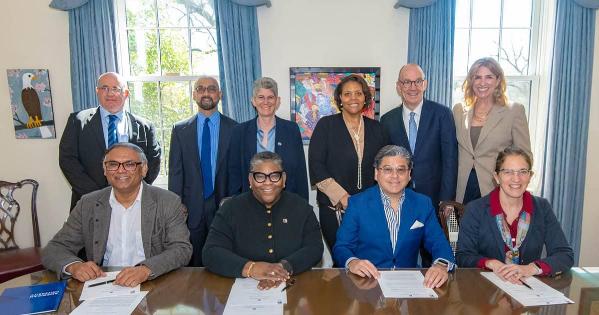 American University is launching a new state-of-the-art institute to advance research and education on global economic activity and the efficacy of digital systems. The Shahal M. Khan Cyber and Economic Security Institute (Khan Institute) is launching with a $5 million gift from Shahal M. Khan, SIS/BA '95, and a partnership with Cyber Range Solutions (CRS), a global leader in cyber security training solutions.
"This project is what American University is all about–developing impactful and actionable knowledge that will help address one of society's great challenges. Partnering with experts and visionaries to build tools that will help companies, communities, and consumers safely thrive in the global cyber economy is critical to all our futures," said AU President Sylvia Burwell. "We are grateful to Shahal and the Khan family, who embody the AU changemaker spirit, and Bash Kazi and the entire CRS team for coming together with our faculty and students to create a unique initiative that will have a significant impact on cyber and economic security."
The Khan Institute will offer training courses, guest speaker lectures, and workshops in cyber incident response, network security, and the protection of vital infrastructure. The institute builds on AU's interdisciplinary approach to drive research across the university community and builds on the strong foundation in inclusive technology policy.
"Right now, I believe we are in a very important moment where we must prepare our future leaders with the right knowledge and understanding of geopolitics, economics, and security in order to ensure we all are ready to face the challenges of the future," said Khan, founder of Burkan World Investment whose career spans over 25 years in telecom and government relations. "This institute is designed to give future changemakers of government, diplomacy, and statecraft the necessary tools and understanding. And AU's position in Washington, D.C., allows us to be on the cutting-edge of this work."
The Khan Institute and CRS will develop a state-of-the-art cybersecurity center of excellence featuring a cyber range, which is a facility where simulated cyber training activities and research can be conducted in order to train and instruct students and cyber security professionals on incident response and how to secure networks and protect critical, high-value assets and infrastructure against cyberattacks. 
The agreements to establish the institute and partnership were signed earlier this week during a special event on the American University campus in Washington, D.C. The generous gift is part of the university's $500 million Change Can't Wait campaign.
CEO of CRS Bash Kazi said, "We are honored to lead this prestigious program with American University and to invest in the establishment of a world-class cyber security training facility that leverages the latest technologies from industry leaders to bridge the acute talent shortage and create a sustainable pipeline of cyber security professionals and managers." 
A strategic partner and team member for CRS, Israel Aerospace Industries (IAI), was also present at the signing ceremony. Esti Pershin, General Manager, Cyber Division, IAI, said, "IAI is proud to partner with CRS and American University to train the future cyber leaders of tomorrow. IAI's cyber training and simulation platform, TAME RANGE, will help equip students with the tools they need to navigate real-world situations."
Spearheaded by AU's Vice President for Research and Innovation Diana Burley, the Khan Institute will provide greater educational opportunities for AU students and professional development opportunities for community stakeholders to navigate evolving cybersecurity threats. An award-winning global cybersecurity expert, Burley's research takes a holistic perspective to cybersecurity, including the strategic development of the cybersecurity workforce, the relationship between technical and human factors, and methods for strengthening cybersecurity posture across a range of institutions. 
Burley shared, "A prosperous global economy relies on a safe and secure digital ecosystem. To enable coordinated action and grow a shared sense of responsibility, we need to develop foundational cybersecurity knowledge across all members of society. The Khan Institute is poised to be a force multiplier in preparing global citizens to thrive in the digital economy. With our emphasis on multidisciplinary collaboration, inclusive technology policy, and sustained global impact, AU is an ideal home for the Khan Institute, and I am honored to lead the effort." 
From Internet governance to cybersecurity, American University influences global technology policy through its academic research and actively advances inclusive leadership and a more socially equitable technology infrastructure. Among some of AU's initiatives advancing inclusivity in technology policy are The Internet Governance Lab, The Kogod Cybersecurity Governance Center, The Tech, Law and Security Program at the Washington College of Law, Policy Studies in Cybersecurity Program at the School of Public Affairs, and the Institute on Disability and Public Policy.