4400 Massachusetts Avenue NW
Washington
,
DC
20016
United States
Mon and Thurs: 9am-6pm Tues, Wed, and Fri: 9am-5pm
Summer hours: M-F 9am-5pm
Closed Saturday and Sunday
Contact:
Jeffrey Volkmann
Executive Director
Counseling Center
,
United States
Psychiatry Medication Management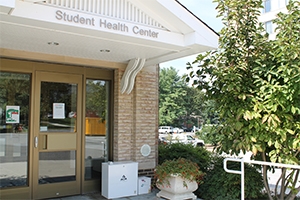 The Counseling Center provides referrals to private care for students who can benefit from psychiatric assessment, consultation, or medication. In many cases, insurance helps cover the cost of psychiatric services. Psychiatric services are provided at the AU Student Health Center. You may contact the Student Health Center directly to set up an appointment with the psychiatric nurse practitioner (more information regarding these services is listed below).

To obtain a referral for off-campus psychiatric care or to discuss your psychiatric care needs, call x3500 to make an appointment with a Counseling Center clinician. You should also call your insurance company to determine your benefits for psychiatric services and any limitations that might govern your choice of provider. See our pages on referrals and insurance for more information.
Links to web-based information about various medications can be found on our Online Resources site .

Limited psychiatric services available at the Student Health Center on the first floor of McCabe Hall. Students who require specialized psychiatric care may not be appropriate for services offered at the Student Health Center and will be offered referrals to private and/or specialized care in the community. There are fees associated with psychiatric services in the Student Health Center. The fee schedule has been designed to keep costs to students as low as possible. For more information, please contact the Student Health Center at 202-885-3380, or view their Website at http://www.american.edu/ocl/healthcenter.

Students do not need a referral from the Counseling Center to access psychiatric services at the Student Health Center, but may make an appointment to speak with a Counseling Center clinician first to explore available options.

Students with learning disabilities and ADHD who are interested in obtaining academic assistance (e.g., classroom accommodations for a disability, specialized academic support, writing help or tutor referrals, etc.), should contact the Academic Support and Access Center at 202-885-3360 or stop by MGC 243 to schedule an appointment with an academic counselor. More information about their services is available at http://www.american.edu/asac.

Please note: Students with American University's health insurance who choose to use their insurance to see an off-campus provider do NOT need to obtain a referral/paperwork from the Counseling Center. However, if you would like assistance with finding a provider in the community, you are welcome to speak with the Counseling Center's insurance assistant (202-885-3500) during her drop-in hours, or make an appointment to speak with a clinician.

Frequently Asked Questions
No. Medication management is not a service provided by the Counseling Center. Rather, students should contact the Student Health Center or speak with a Counseling Center clinician about a referral to a private psychiatrist in the community.

No, you can do that at the Student Health Center. However, if private psychiatric care is more appropriate, the Counseling Center clinician can help you connect with private psychiatric care in the area. If you are on medication for a psychological condition, it is important that your medications are well-supervised. Changes in your health, your life situation, your diet, or even simply the passage of time can affect how your medication functions. Close supervision is especially important if you are beginning, ending, adjusting, combining, or switching medications. Your psychiatrist should be available to you for psychiatric assessments, regular meetings, and medication-related emergencies. In addition, many medications work best in conjunction with psychotherapy, not instead of it, so many students will see a psychiatrist who is also a therapist or see both a psychiatrist and therapist who will consult together. Generally, private psychiatric care is the appropriate service for these concerns. Student may also contact the Student Health Center for their medication needs.
No. If you are seeing a prescriber off campus, you do not need a referral from the Counseling Center. But, you should be in touch with your insurance company so that you fully understand any restrictions or procedures they require for mental health coverage. If you participate in the AU insurance plan, you do NOT need to contact the Counseling Center to register a referral; there is no mental health referral requirement with the AU student insurance plan.
The first person to contact for a refill is the health care provider who originally gave you the prescription. If that is not possible, you can contact the Student Health Center or the Counseling Center for a referral to a local provider. No responsible provider will refill your prescription without meeting with you for an initial evaluation, so if you have not left enough time to connect with a provider before your prescription runs out, your last option may be an emergency room visit to stabilize your condition and obtain a short-term "bridge" prescription to sustain you until you can connect with appropriate ongoing services. If you are on medication, don't wait until your prescription has almost run out to arrange for a refill. Think ahead. Excellent psychiatric services are available to students in the greater DC area, and a Counseling Center clinician will be glad to help you connect with them. In many cases, insurance can help with the cost. 
A Counseling Center clinician can help you find the most affordable services possible. There are many different ways to manage the cost of your mental health treatment: for example, you can see a provider who is "preferred" by your plan; you can go to a provider or clinic with a sliding fee scale; you can get treatment at a training clinic; you can change your health plan to one with better or different coverage (in some cases); you can generate extra income to help pay for the costs; you can obtain support from others (e.g., parents) who may be able to help with the costs; you can take time off from school for concentrated mental health treatment so that you can return later, better able to manage the demands and responsibilities of being a student. A Counseling Center clinician can help you explore all your options so that you can decide what to do.