Main Office (Anderson Hall): Mon-Fri: 9 AM-5 PM; Sat-Sun: Closed;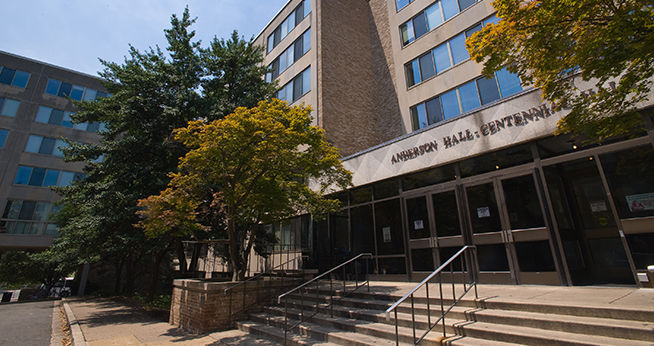 Centennial Hall is home to the first-year residents, housing over 400 students.
About the Hall
The building is designed for suite-style living, where two students living in one room share a private bathroom with two students in an adjoining room. Each floor community has a central lounge space with a kitchen, lounge furniture, and television for students to study or socialize with their community. Each floor also has a study lounge as well as a laundry room. The building is connected to Anderson Hall, also a first-year hall.
Personalize Your Room
Decorative and additional items can be purchased from the HRL coordinated vendors through our Personalize Your Room webpage. 
In-Hall Staff
In-hall staff includes resident assistants (RAs) and a community director  (CD). Centennial RAs live on each floor, acting as peer educators and helping residents transition to university life and connect to their community. The Centennial community has one CD, a professional staff member who supervises RAs to foster a living-learning environment to bridge the academic and residential experience.
In room Wi-Fi
Cable-ready TV with HDMI cord in lounge area
Elevators 
Mailrooms
Printer/copier services
24-hour front desk service
Double and suite-style furnished rooms
Single bathroom on every floor 
Community kitchen

Microwave 

Stove cooktop 

Oven  

Sink with garage disposal  

Soft furniture - dining room table and chairs

Independent study lounges
Laundry rooms
Vending machines
Social areas
Double suite-style furnished rooms
Twin sized bed with built in storage (4 drawers) 
Shared bathrooms in suite with shower, dual sinks, double vanity with storage underneath, and toilet
Windows with rollershade blides
Wall vanity  
Desk, chair, and bookshelf 
Carpeted floors  
In-room Wi-Fi/ Wi-Fi jacks
Cable-ready outlet
Virtual Tours
Our virtual tours are representative of a given room type. Each space varies based on room sizes and dimensions. Each virtual tour includes some decorative items and a MicroFridge to show what the room looks like when occupied, but these items are not included in rooms.  
Click below to view virtual tours of Centennial Hall:
FYRE
The First Year Residential Experience, known as FYRE, is the umbrella community for all students that live on campus during their first-year (Anderson, Centennial, Letts & Roper Halls). Throughout the year, there are a ton of out-of-the classroom programs & opportunities for residents to learn, make connections, engage with other student support offices, and have fun.
Get involved in your Residence Hall Association or Hall Council

Check out the history plaque in the front lobby!
CarolineDeJacquant
"I love working with first-year students and all the excitement they bring. I'm honored to have the opportunity to support them as they grow and explore all that AU has to offer."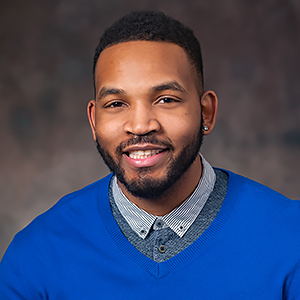 Darrian Slater
"My experience of being a CD in Anderson Hall has been very fulfilling. Working with our first-year students has been rewarding, despite some challenges."
Dana Spencer
"My job is to make sure that everyone who lives in Letts and Roper are happy, healthy, and safe. But where I really find joy in my work is helping to create a strong sense of community in our buildings and on our campus"
Building Information
Centennial Front desk: (202) 885-7700