Main Office (Anderson Hall): Mon-Fri: 9 AM-5 PM; Sat-Sun: Closed;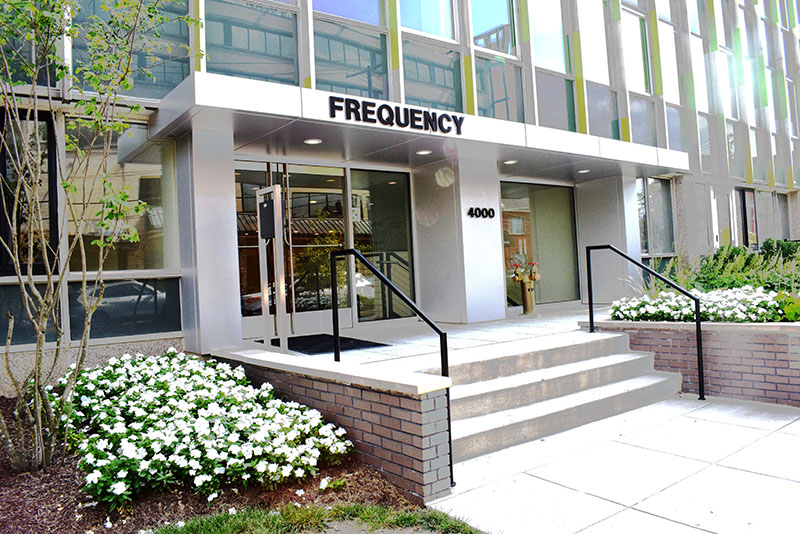 American University leases apartments at the nearby Frequency apartments to house juniors and seniors.
About The Building
Each unit is furnished and ready for students to move-in. The Frequency offers an ideal off-campus location for AU students looking for apartment-style living and a short commute to the AU campus and DC. The Frequency is located on the AU campus shuttle line, minutes from the Tenleytown/American University Metro Station and Whole Foods, and is in close proximity to Tenleytown restaurants and businesses.
Each resident of the Frequency is provided a bed frame, standard twin mattress, dresser set and night stand. Each apartment will also receive at least one desk (free-standing or built-in) and one desk chair to share. Residents of 2 Bedroom and large 1 bedroom apartments will also receive a couch and dining furniture.
Virtual Tours
Our virtual tours are representative of a given room type. Each space varies based on room sizes and dimensions. Each virtual tour includes some decorative items and a MicroFridge to show what the room looks like when occupied, but these items are not included in rooms.  
Click below to view virtual tours of the Frequency:
Personalize Your Room
Decorative and additional items (bedding, MicroFridge) can be purchased from the HRL coordinated vendors through our Personalize Your Room webpage.  Each room will include the furniture noted on this webpage.
Kitchen with stainless steel appliances

Including a convection microwave-oven and glass stove top

Closet storage
Washer/dryer unit
Full bathroom
Digital thermostat
24/7 staffed front desk
Secure main entrance and student apartments
Mail & package delivery
Private & group study spaces
Rooftop patio
A gym featuring treadmills, stationary bikes, and weights
Indoor bike storage
On-site parking at an additional cost
Dry-cleaning services at an additional cost
These floor plans are representative and may vary in a specific unit.  Unit measurements listed on floor plans are an average for this unit type and the measurements for the full apartment.
WiFi 
The Frequency Apartments has WiFi connections within each unit. In each apartment, there is a sticker on the WiFi router, located in the living room of 1-bedroom and 2-bedroom units, and in the living space of studio units. This sticker contains the login information for each unit's WiFi access point. For WiFi access in community spaces, please see signs on the wall for connection instructions.
Parking
16 parking spaces are available at the Frequency for a cost of $782 a semester. Parking can be requested beginning August 3, 2020 by emailing Nmcentee@uippm.com. Parking spaces will be provided on a first-come, first-served basis.
Frequency parking permits also do not provide parking privileges on the AU campus. Please contact AU Parking & Commuter Services for parking on the AU campus property.
Maintenance Requests
Frequency residents should submit maintenance requests through email to Frequency@uippm.com
Please include your name, apartment number and specific details about the maintenance issue.