The Center for Student Involvement (CSI) is the hub for the student experience at American University. CSI is home to Student Government, Student Clubs, Student Media, Fraternity and Sorority Life, and Graduate Leadership Council. CSI is dedicated to leadership development, organizational advising, and programs that help foster a sense of belonging for the next generation of changemakers.
To find clubs and a calendar of student events: 
Check out 
Engage
, your one-stop shop for the student activity experience.
To find virtual resources: 
Club leaders, visit CSI's 
Virtual Resource Page
for more information and resources on virtual club activities! 
Renew Your Organization or Club Today! Annual Renewal 2021-2022 now open!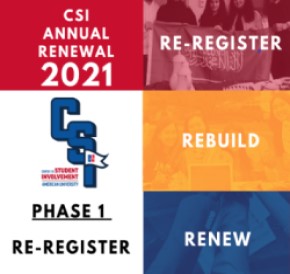 What is Annual Renewal? 
Annual renewal is CSI's renewal process for all recognized clubs and organizations. When you renew your club, your club remains active for another year. If you do not renew, your club will be frozen for the 2021-2022 school year.
Annual Renewal is in 3 phases: Re-Register, Rebuild, and Renew
Phase 1: Engage Re-Registration
All CSI Student Organizations must complete Engage Re-Registration by Friday, August 6th.
Any student organization that does not complete Phase 1: Re-Registration is no longer active as of Friday, August 6th.
Instructions:
Login to Engage using your AU credentials
Find the square box in the top right-hand corner and click "Manage"
Choose your organization and click "Re-Register this Organization"
Complete the following:

Review the web tutorials

Introduction to Engage
Building and Managing Your Organization's Roster

Confirm or update information

Club constitution
Club logo/image
Club email
Student Primary Contact

Manage your club roster

Review your current roster

Remove any graduated students or designate their position as "alumni"
Remove any students who are no longer members or designate their position as "follower"

Add your executive board members

These are the required positions:

President
Treasurer
25live Space Requester
***New Member Educator (Professional Greek-lettered chapters)

Add and/or confirm Club Faculty/Staff Advisor
Review your new additions

Make sure to input students using the ending @american.edu for the email address. Don't not use their @student.american.edu.
All student clubs must have a minimum of 8 student members in your roster (excluding the Club Faculty/Staff Advisor

Submit your re-registration form! You will receive either an "approval" or "denial" email from Engage once the submission is reviewed. If your submission is denied, review the comments for the necessary changes to your submission.
For more information and FAQ's view this article.
More details about Phase 2 and Phase 3 will be communicated later in the summer.
Student Organization Cohorts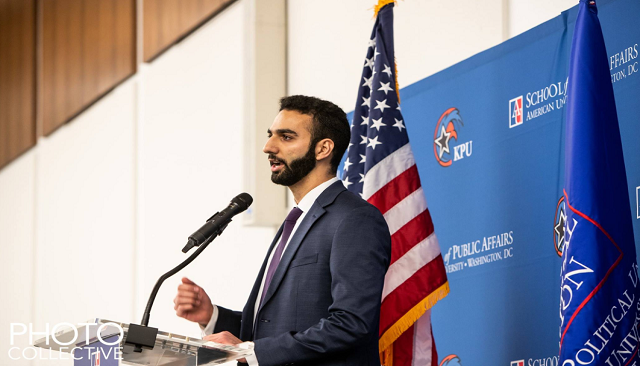 AU Student Government includes the Senate, Kennedy Political Union, Student Union Board and Women's Initiative. Get involved today!
AU is home to more than 150 student clubs, including everything from social and cultural organizations to service and academic groups. Find your match!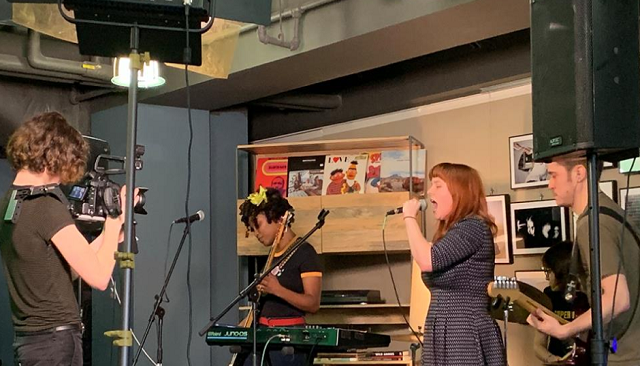 AU Student Media houses organizations that produce journalism, photography, film, music and much more. Find your creative outlet at AU!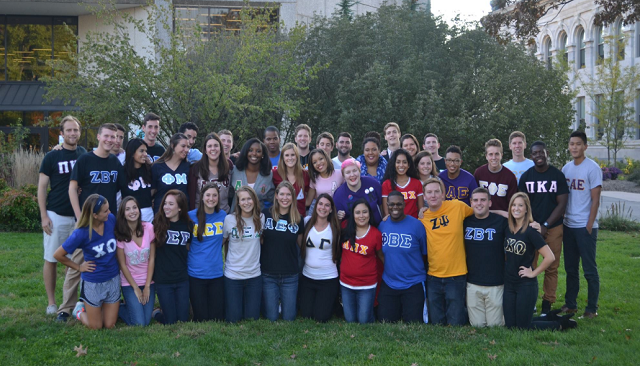 Fraternity & Sorority Life at AU is made up of 3 councils, 20+ organizations and more than 1,000 students.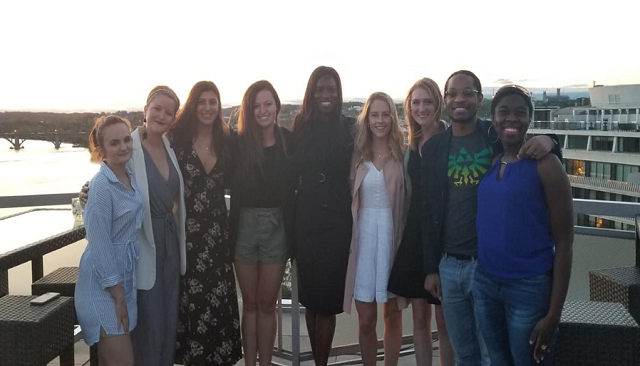 Graduate Leadership Council represents over 3,800 graduate students and includes leaders of 5 councils
Looking for a list of Student Organizations? Visit Engage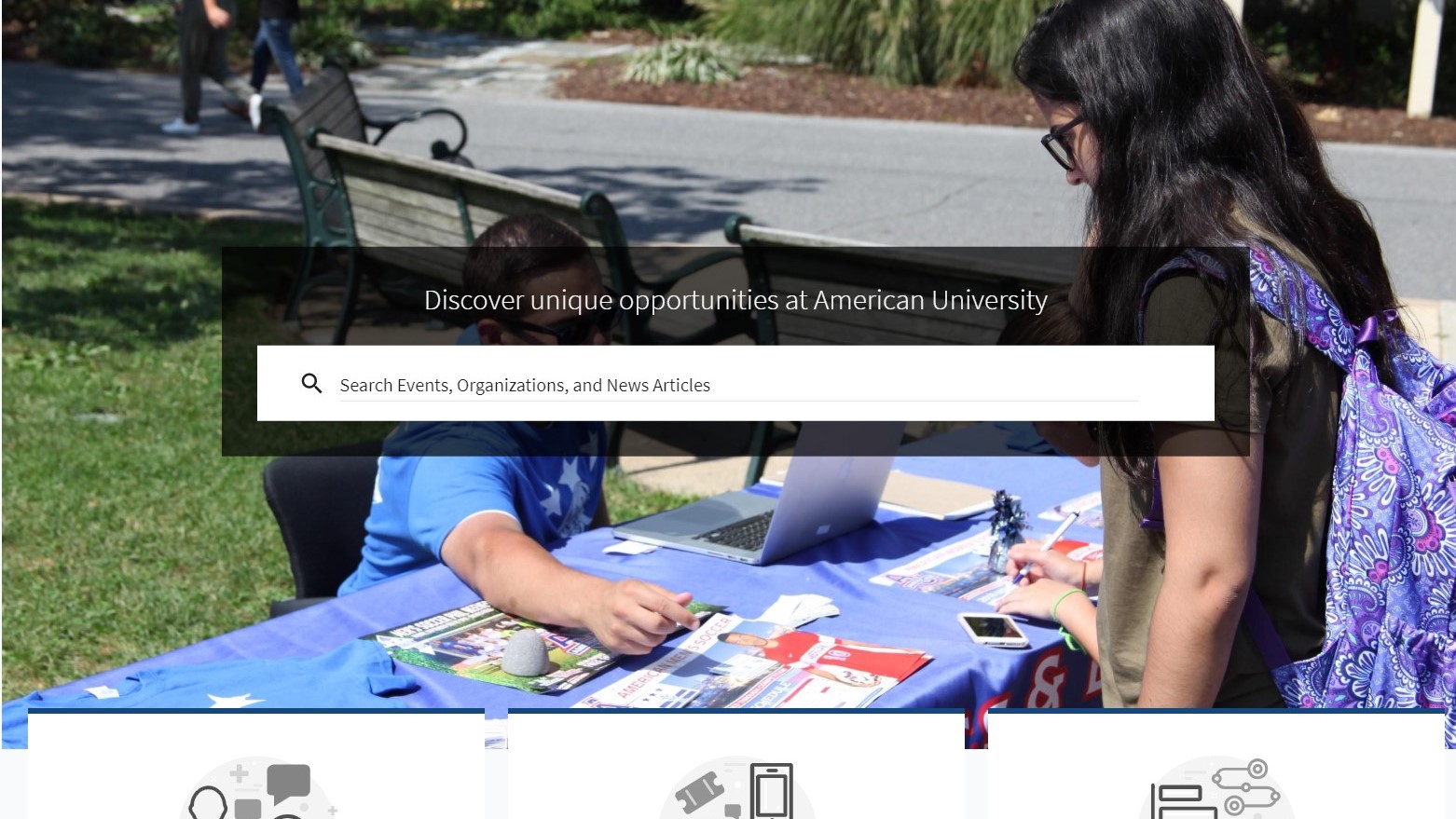 Engage allows members of the AU community to find student organizations and discover events happening on campus. Simply sign into Engage using your AU Portal username and password, and explore what American University's student organizations are up to! 
You can learn more on the info Engage page or visiting the AU Engage page powered by Campus Labs.