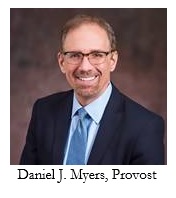 Dear Colleagues,
Welcome back! From engaging with first-year students and their families on move-in day to meeting our incoming faculty at orientation, the start of my first full academic year as provost at American University already has been filled with memorable experiences. Thank you all for the energy and enthusiasm you invested in preparations for the semester ahead.
Our activities over the coming months will be critical to the success of AU's strategic plan, and I am looking forward to your input and participation. Please continue reading for updates on various ways to get involved, and don't hesitate to let me know if you have any feedback.
Best wishes for a productive and successful fall.
-Dan
Faculty Senate Agenda AY2019–2020
All faculty are invited to attend monthly Senate meetings and participate in discussions about vital campus issues. Meetings occur on the first Wednesday of the month from September to December and February to May. Look for an email one week in advance containing an agenda, location, and supporting material. Key topics to be addressed this year include the following:
Core Curriculum: The Senate continues to evolve its role as champion and steward of the Core Curriculum, which is now entering its second full year. Senate leaders will meet monthly with Core Curriculum leaders to monitor progress and partner in opportunities for continuous improvement. One current area of focus is the interface between AU Abroad and the Core Curriculum.
Interdisciplinary Research and Teaching: Universities by their nature make interdisciplinary work difficult. The Senate seeks to reduce those barriers at AU as part of its contribution to realizing the new strategic plan.
University Faculty Awards: The Senate will take the lead on coordinating the selection process for faculty awards, starting this year.
To contribute to any of the above workstreams, please contact Senate Chair Karen Baehler (baehler@american.edu) or Senate Coordinator Lura Graham (facultysenate@american.edu).
Advisory Committee on Research & Centers
Interim Vice Provost Sarah Irvine Belson has assembled a committee of faculty and staff drawing representation from across the university to guide the Office of Research on two top strategic priorities throughout the coming academic year. The first will be to establish a transparent system for soliciting center proposals, selection criteria for two or three new university-wide centers, and methods for assessing the centers' progress over the first few years. The second focus will be to work to examine the sponsored research infrastructure and enhance the ability of faculty to seek and win externally supported grants and contracts. We will announce the members and officially launch the committee in mid-September. If you would like to provide input as this group begins its work, please be in touch with Sarah at sirvine@american.edu.
Task Force on Graduate Studies
We will be convening a task force on graduate studies to support Interim Dean Wendy Boland in reviewing the graduate academic regulations, procedures and policies for dual degree and/or multidisciplinary programs, graduate dismissals, graduate employment and funding, and online program concerns. Should you have an interest in contributing to this effort, please reach out to Wendy at boland@american.edu.
Faculty Development Initiatives
Associate Vice Provost Steve Silvia is working on a project to help improve the support that the university provides to recently promoted associate professors (both tenure line and term) to help them to advance to promotion to full professor in a timely way. The project is the first in a larger initiative to strengthen support for faculty development at all stages of colleagues' careers. The project includes a university-wide working group that will meet this fall to develop a set of recommendations. Steve would welcome any thoughts or ideas that you have regarding this project, and you can reach him at ssilvia@american.edu.
Pride Partners LGBTQ+ Mentorship Program
The LGBTQ+ Faculty and Staff Affinity Group has created a new mentorship program for the 2019–2020 academic year and seeks additional volunteers. The program will be launched—and matches introduced—at a luncheon on September 19 at 1:00 p.m. To express interest in serving as a mentor, please submit this form by September 12.