International
Six SIS Women Who Paved the Way for This Generation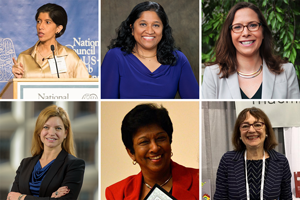 Of the first students to earn diplomas from School of International Service (SIS) at commencement on June 7, 1959, not one was a woman. When it comes to educating and graduating women, SIS has come a long way since then. The school now enrolls more than 3,000 students—more than half of whom are women—across competitive undergraduate, masters, and doctoral programs. Currently, for the first time in the school's 60-year history, a woman leads SIS as interim dean.
Thousands of impressive women have walked our halls in pursuit of new futures and have gone on to successful careers around the world—into fields like cybersecurity, environmental protection, or international communication, which were perhaps unimaginable at the time of our founding. They've helped lay the foundation for girls across the globe who now have unprecedented access to information, technology, and education.
To celebrate the accomplishments of women in the SIS community, we spoke with a few alumnae and faculty members who have pushed the limits of their fields and redefined what is possible for those who come after them. They have worked with US presidents, pulled up their chairs to desks in C-suites, and challenged the status quo in their professional and personal lives. Through it all, these six women continue to lift others up through the ranks to join them:
Paving the way for women at SIS
Nanette Levinson, Associate Dean for Faculty Affairs, SIS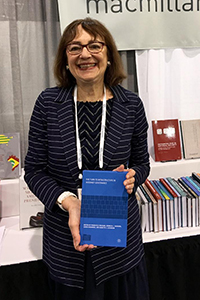 Nearly 40 years ago, Associate Dean for Faculty Affairs Nanette Levinson first arrived at SIS as one of few women on faculty, starting just three days after she received her doctorate from Harvard University.
As an undergraduate at the same university, Levinson was the first woman from her public high school to be admitted to Harvard-Radcliffe and recalls that some faculty evaluated women students using separate grading curves. In her first year, the dean of students—a woman—told Levinson that she didn't expect her to do well. That conversation stuck with Levinson and motivated her to value all students and never make assumptions based on their background. She went on to earn grades that placed her in the top three percent of all students in her class. "It was clear to me that something needed to change," Levinson says.
Since joining SIS, Levinson has taught courses in the Intercultural and International Communication program and developed expertise in internet governance, technology and innovation policy, communication and development, and social change. She has spearheaded many firsts both for SIS and in her field—from curriculum innovations and establishing SIS's Undergraduate Research Symposium to chairing the American Political Science Association, Sections of the International Studies Association, and being the first woman to chair the Board of the National Conference on the Advancement of Research. In 1988, SIS Dean Louis Goodman appointed her associate dean.
"It has been, and continues to be, really important to me that the next generation of women have not just role models, but also an equal way in the world. There are many implicit barriers out there. For me, it was very special to serve as associate dean from 1988 until 2005 and again, beginning in 2015, because it meant that I could actually try to make things happen and make a difference for the SIS community," she says.
In her current role as associate dean for faculty affairs, Levinson helps bring to the faculty scholar-teachers across various disciplines, codirects and connects students with the AU 2030 Internet Governance Lab, and continues her research and teaching. She has left a lasting impression on thousands of students, like Seema Khan, SIS/BA '93, who came to SIS looking for female role models, who says of Levinson: "Nanette Levinson is one of my strongest memories of leadership at SIS. Whether she realizes it or not, she shaped many students' lives just by her presence. She was inspirational."
Educating the next generation
Esther Benjamin, SIS/MA '92, CAS/MA '95, Senior Vice President for Global Public Affairs and Chief Benefit Officer, Laureate International Universities
Esther Benjamin has worked across the private, public, and nonprofit sectors; for Presidents Barack Obama and Bill Clinton; and for organizations like the Peace Corps, the World Bank, the United Nations (UN), and Grant Thornton. She has worked in more than 100 countries making a positive impact in the world. Now, as a senior vice president for global public affairs and chief benefit officer at Laureate International Universities, which owns and operates higher education institutions in 23 countries and online, Benjamin is helping to improve lives through education. For several years, she also served as Laureate's CEO for Africa.
"There isn't anything more important than higher education for women, young people, and members of any under-represented community, to expand their range of professional options, as well as their ability to positively contribute to society," says Benjamin. Her work at Laureate helps one million students, many from traditionally under-served populations, gain access to quality higher education and achieve their dreams.
Benjamin's career began with a connection she made at her SIS commencement ceremony, where she was a student speaker. She impressed the honorary degree recipient, a UN Under-Secretary for Humanitarian Affairs, who helped her secure a job as a UN humanitarian affairs officer. At 24, Benjamin moved to Somalia with the UN and was one of the youngest officers to serve in that role: "Being a very young female official in the UN was challenging, but starting my career in that way helped me to know that there would be challenges and opportunities in every role that I took on."
She chose to keep an open mind throughout her career. Motivated to improve communities around the world, Benjamin excelled in different arenas, including senior foreign service, global development, and business: "I've been intentional about working across sectors and developing skills across sectors." Resilience and persistence are skills that have served Benjamin well as a woman in C-suite positions.
From her experience in higher education, those same skills have proven crucial for her students' success. Benjamin says that, in addition to serving in the Obama administration as the associate director of global operations for the Peace Corps, one of the most rewarding experiences in her career was leading a Laureate university in South Africa: "Contributing to the social mobility of first-generation university students, seeing them earn their degrees, go on to impressive careers, and lead successful lives as leaders in their communities and countries was an extraordinary experience for me."
Benjamin says that SIS's service-minded approach to international relations and development has been the foundation of her professional life. Today, she stays connected to the school as a member of the Dean's Advisory Board and encourages young women at SIS and around the world to pursue careers with positive impact and contribution with the mindset that "anything is achievable."
Securing a safer world
Laura Rosenberger, SIS/MA '04, Senior Fellow and Director of the Alliance for Securing Democracy at the German Marshall Fund of the United States.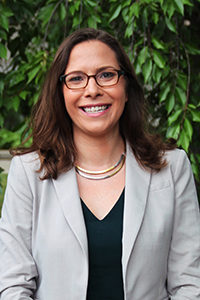 During her senior year of college, Laura Rosenberger recalls being undecided whether to pursue foreign policy or domestic policy after graduation. Then something happened that clarified her choice: "I woke up the morning of September 12, 2001, and felt like my decision had been made for me. I needed to do my part—whatever I could—to create a more stable and secure world, so that something like 9/11 would never happen again."
Rosenberger enrolled in the International Peace and Conflict Resolution MA program and today enjoys a rewarding, albeit challenging, career in the national security field. As a Senior Fellow and Director at the German Marshall Fund, Rosenberger analyzes and develops ways to prevent and deter foreign interference in democracies. At the moment, she's got her hands full with Russia.

"The way I see it, Vladimir Putin has updated an old Cold War playbook with new technologies that he is using as a new form of warfare," she says. "From the foreign policy perspective, it's really important that we begin to understand those tools in a much more rigorous way and develop meaningful ways to defend against and deter them; not only because Vladimir Putin will continue to actively use these tools, but also because other authoritarian powers are already learning lessons and beginning to adapt some of these tactics as well."
Prior to joining the German Marshall Fund, Rosenberger was a foreign policy advisor to Hillary Clinton, worked extensively for the US Department of State under multiple presidential administrations and White House National Security Council under President Obama, and completed a Presidential Management Fellowship. Some of her career highlights include helping secure approval of a humanitarian mission that saved tens of thousands of Yazidi people stranded on Iraq's Sinjar Mountain from an attack by ISIS and preparing President Obama for his first summit with Chinese President Xi Jinping.
Throughout her career, Rosenberger has been no stranger to the challenges that women in her field and in the workforce writ large face every day. Recently, she participated in a candid roundtable discussion for POLITICO about gender-based issues in the national security field, a decision she made to publicly address barriers that hold back women in the work place.
On an international scale, Rosenberger notes that these gender-based barriers, in addition to women's lack of access to education, pose serious threats to security and world order. Specifically, she applauds activists like Malala Yousafzai who champion education reforms that helps girls "get in the starting gate with the skills necessary to compete on the track."
"There is no question about the nexus between women's rights and national security, stability, and prosperity across the board. Women's rights are absolutely a strategic national security issue in my mind, and education plays huge role in that."
Bridging advocacy and academia
Vidyamali Samarasinghe , Professor, SIS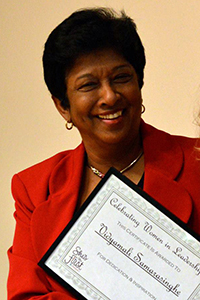 During her nearly 30 years of teaching at the School of International Service, Professor Vidyamali Samarasinghe has proudly watched the number of female faculty members grow. As a scholar-practitioner focused on gender in developing countries, the female workforce—whether overseas or right here on campus—is prime on her mind.
What she strives to impart on to her students is just how small the divide really is between gender issues in the US and in developing countries that can seem a world away: "To me, feminism is not only a scholarly endeavor, it is also a practice. It is very important to me to transmit what I learn on the ground to my students, as well as to the larger community. I always tell my students to start looking at this issue within their classes: do not separate the West and what we call 'the rest.'"
Samarasinghe recalls a pivotal moment in the early years of her academic career when she was conducting geography research that focused on gender and relied heavily on statistics. She noticed there were no published statistics on women's work.
"I wondered why that was so, and I realized that somebody had to probe to see why women's work—which is so important to the survival of the household, the economy, and the country—had not been brought into published statistical data. That is what spurred me into researching issues of women at first, and then into analyzing and understanding how women are placed within the context of the socialized aspect of gender."
Samarasinghe's research has gone on to explore gender in Southeast Asia, female sex trafficking, women's work around the world, and the impact that conflict has on women.
On campus, she engages with American University's chapter of She's the First, an organization that promotes activism and advocacy for girls' education. In her own classroom, she tries to build her students' awareness of societally-ingrained behaviors and ideas they themselves may subconsciously hold. For example, she points out how male and female students participate differently in class discussions.
"In classes, speak up. It is important to make your voice heard," encourages Samarasinghe. "Some students may feel that speaking up is not feminine or they think it is aggressive. It's not aggressive, not at all. I would say it is simply voicing an opinion, and it is important to have a space to articulate concern and to show an equal right to do whatever you wish to do."
While gender barriers have existed for millennia, Samarasinghe sees a contemporary and progressive shift in the status quo. However, she's quick to note that this rapid wave of women's rights is met with some resentment. An important aspect of her work is trying to understand how to bring men into the fold while reducing their perceived sense of threat.
"I haven't found a solution yet, but little by little, we are making progress in trying to show that issues of gender and issues of feminism are a mental frame in which both men and women are valued for whatever they do in society on equal terms. That really should be the way we generally identify 'equality.'"
Taking a seat at the table
Seema Khan, SIS/BA '93, Senior Advisor of the General Sports Authority of the Kingdom of Saudi Arabia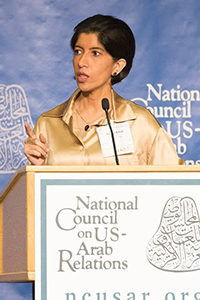 "When I was a child, I really wanted to be an astrophysicist. I thought it was the coolest job in the world," says Seema Khan, senior advisor of the General Sports Authority of the Kingdom of Saudi Arabia. At age 10, that dream fell by the wayside after her science teacher told her that women couldn't be astrophysicists. Khan didn't question the logic.
However, as a second-generation American who grew up exposed to international issues in the US and Pakistan, international relations was a natural fit for Khan. After completing her undergraduate studies at SIS, where she recalls being inspired by Associate Dean Nanette Levinson, she went on to study international law and human rights and to earn a law degree.
From there, Khan's career took an unexpected detour: "I coincidentally fell into co-founding a start-up during the dotcom internet craze. I ended up being the only female general counsel on Wall Street at that time and I didn't even know it was a big deal."
At just 26 years old, Khan was surprisingly older than most others in her young company and the only woman. She supervised mergers and acquisitions worth more than $100 million, yet was often mistaken as a secretary during meetings. Khan eventually helped successfully sell the start-up to E*Trade for over $250 million.
Around the same time, her family moved to Saudi Arabia for her husband's work. She admits that, even as someone who studied international relations, spoke Arabic, and had travelled extensively, she went into the move with preconceived notions about what living and working in Saudi Arabia would be like as a woman. Khan was pleasantly surprised when she arrived.
She secured a position as a legal advisor to the Saudi Arabia General Investment Authority, which turned out to be "one of the most exhilarating, interesting, and amazing opportunities" she's had. From there, she became chief strategy officer and worked on investment strategy for the country's economy, international relations, and special projects. She was the first woman to attend the World Economic Forum with a Saudi public sector delegation.
Initially the only woman in a senior post in the Saudi government, Khan is now one of many, and is proud to have helped diversify her workplaces, all the way from leadership down: "I have been able to open doors for other people—other women and other men—to do what they would like to do, and that's always been one of my goals."
Insuring brighter futures
Dawn Miller, SIS/BA '93, President and CEO, AXA Insurance Company, US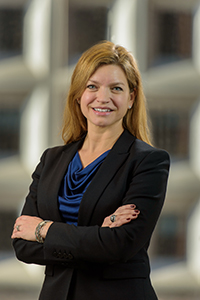 The connection between the insurance industry and international relations may not seem obvious at first, but after a conversation with the 2018 Alumnus/a of the Year Dawn Miller, President and CEO of AXA Insurance Company, US, you might think differently.
"What is very interesting about insurance is that it touches all aspects of our lives: where we live, where and how we work, our health programs, what we eat, how we're transported, and what we build. Insurance is a financial product and risk management solution that is needed for nearly everything around us to happen," she says.
While Miller is now a top executive in the insurance and financial services industries, she admits that at one point she thought she would spend her professional life in the energy sector in emerging markets. However, with the broad reach of insurance, Miller's work has made positive impacts on everything from sustainable energy sources and environmental protection to helping small businesses and livelihoods thrive around the world.

"From one perspective, insurance can be very tactical and granular, focused on a specific personal or business challenge, while also—by engaging a more holistic risk identification and mitigation effort—addressing broad global themes around sustainability, environmental protection, and economic empowerment. An excellent example of this is the use of parametric solutions to protect small crop farmers from financial effects of bad weather in emerging economies. Through this lens, you begin to see how micro insurance programs can support and help facilitate different groups, helping them build their businesses and protect their families," she says.
Since her undergraduate days at SIS, Miller has enjoyed a truly international lifestyle. She attended graduate school in France as a Rotary Scholar, worked in New York as a political risks insurance broker, then ran a small multi-country investment advisory firm based in Prague, Czech Republic, which focused on industrial privatizations. Following a relocation to Northern California in 2001, she focused on the energy sector and put her government relations training and skills to the test as compliance manager on a power plant. During the US energy crisis, she arrived at AIG, holding positions that took her all over the world, from Europe and Russia to the Gulf States, Southeast Asia, and South Africa. Today at AXA, Miller commutes between New York City, where she works, and London, where she lives with her husband and two children. She also travels internationally as a competitive figure skater.
Between it all, she makes it a priority to mentor women and other young professionals seeking a similarly enriching career path in her field: "We must continue putting ladders as far down as we can to help pull people up and show up as strongly as they know they can." Miller notes that including young, diverse perspectives is crucial to innovation in any business or sector.
Learn more about the 60th anniversary of the School of International Service.