Campus News
Washington Enlists AU's Help to Fight Hunger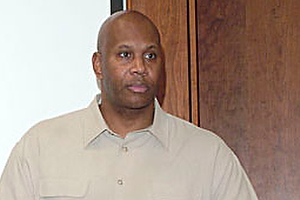 Somewhere high over the Atlantic in the throes of another mundane flight to Kenya, Kermit Washington was struck with an idea. When his plane touched down in Nairobi, many details of his plan to fast to raise awareness and money for the plight of the hungry in Africa still were sketchy, but Washington knew exactly where he wanted to stage the event.
"The best four years of my life to this point were at American University, and I thought it would be wonderful to have it there to pull everyone together," said Washington '73, a former men's basketball All-American. "The School of International Service sends kids over to work in Kenya every year and has helped me in everything I do. I couldn't pick a better place to do this."
Washington's "Fast for the Hungry" kicks off Oct. 1 at noon on AU's main quad. He'll spend five days forgoing food and sleeping in a tent, in hopes of raising enough money for his Project Contact Africa foundation to feed 2 million hungry people. When he approached AU President Neil Kerwin and Dean Lou Goodman of SIS with the idea, they leapt at the chance to get involved.
"American University's support of this effort—and of one of our distinguished alumni— underscores our commitment to positive social change on a global scale," Kerwin said. "We are utilizing this opportunity to develop a deeper understanding of the issues of hunger on the African continent."
Joining Washington and Kerwin for the event's launch will be Goodman, who plans to fast for 24 hours and spend a night under the stars on the quad.
"Kermit established his charity [in 1995] in response to the genocide in Rwanda, and established a partnership with SIS for a new study abroad program in Kenya," Goodman said. "He's an alum we're very proud of, and we're happy to help him raise funds for the greater good. It's going to expose students to important aspects of our world today. There'll be seminars about hunger and development around the world, there will be stories about how students have gotten involved and made a difference. There will be quite a range of people and units from across the university participating, and it will bring alumni back."
Although he graduated with a degree in science, Washington has long been dedicated to
improving the lives of poor Africans. In 2005 he brought AU into the fold as he collaborated with the university to help create AUAbroad's Kenya program.
"We have sent 77 students to Nairobi," said Sara Dumont, director of AUAbroad. "They all have to take a core program about the politics of development in Africa. They take up to two classes at a local university, and they do an externship. Several of our students have worked with Kermit's organization. He was the chief instigator of the program. It seemed to all of us to be a very good idea, and it has turned out to be."
Washington's foundation delivers medical aid and food to Kenyans who desperately need it, and now he wants to do even more.
"We probably feed about 25,000 people a month," said Washington, who added $1 can feed up to 10 people through the purchase of rice, beans, and cornmeal. "If we can raise $200,000, we can [provide] close to 2 million meals."

Washington, whose No. 24 jersey hangs from the rafters in Bender Arena, is perhaps the most accomplished athlete in AU history. As a senior he averaged an out-of-this-world 21 points and 21 rebounds per game en route to earning All-American honors. After an eight year career in the National Basketball Association, he was an All-American once again, earning induction into the GTE Academic All-American Hall of Fame in 1993. Washington now works with the NBA Players Association, which has been supportive of his fast. He also routinely collects signed equipment and memorabilia from NBA players and auctions it to raise money for his foundation.
In a show of solidarity and to learn more about his cause, several of AU's current student-athletes plan to visit with Washington during his fast.
"For us, it really reinforces our community service efforts," said Keith Gill, director of athletics and recreation. "We have a whole competition for our student-athletes centered around community service, and it really reinforces that message to have someone like Kermit who's such a high-profile part of our department showing his commitment."