Office of Graduate Academic Services
4400 Massachusetts Avenue NW
Washington
,
DC
20016
United States
Making a Difference with Her Words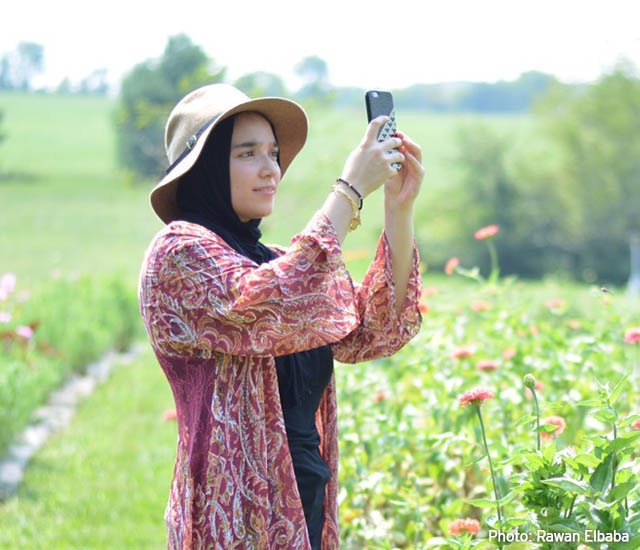 Omama Altaleb, SOC/MA '17
That's the job of a journalist—informing the public and making it real.
Omama Altaleb's capstone project on Syrian refugees who are starting their own community businesses featured a man who opened a local tailor shop. After her story was picked up by the Associated Press, his fledgling business took off. The digital journalism skills she learned in the Journalism and Digital Storytelling MA program were valuable, but even more important was "knowing that I really did something to help someone's life." Today, she's a reporter for a regional news radio station, and the webzine she founded has become one of the leading online lifestyle magazines for modern Muslim women.
Frequently Asked Questions
Our master's in Journalism and Digital Storytelling is designed for working professionals whose schedules make Saturday classes an excellent alternative to full-time study. You'll sharpen your writing, reporting, and editing skills; learn to write compellingly and effectively for an online audience; discover how to design news websites that leverage media elements for maximum impact; and explore the intersection of business, ethics, and the law with new and emerging media. 
You'll receive intensive instruction from faculty who are at the forefront of their fields, but you also learn from the connections you'll make with your cohort of fellow students, who bring their own diverse professional backgrounds into the classroom. This goes even further to make our program an exceptional educational opportunity.

We have an active and effective alumni mentoring program that will help you build your professional connections and networks. Because they appreciate what they learned here, our alumni keep returning to share their success. You'll find them working at media organizations across the country and around the world, and at local media organizations including PBS, Discovery Communications, The Travel Channel, National Geographic Television, Comcast/Universal, and Maryland Public Television. 
We also have two full-time career advisors to help you plan the next stage of your career.