Communications
A Government Analyst with a Passion for Game Design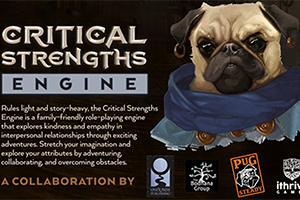 Max Raabe has been working as a government analyst at the Department of Homeland Security for the past ten years, but his passions lie elsewhere: game design.
Raabe joined the MA in Game Design program at American University School of Communication (AU SOC) to learn how to create and design digital and analog games. He said the program is extremely interactive, and the community is his favorite part because he learns a lot from his professors and other students in the program.
"What I'm learning and what I'm gaining by working on projects with other members is the most valuable aspect of the program," Raabe said.
Raabe is interested in analog games, which are tabletop games or tabletop role-playing games. He said the most powerful force of games is how they bring people together and foster interactions between those people.
"There are strengths in having a group of people sit around a table and interact with each other and the systems, and those interactions can be very powerful," Raabe said.
His capstone project is in the creation and development stage, and Raabe said it will be a megagame. A megagame is a large-scale simulation that contains different mini-games depending on which scenarios the players choose and how they play the game.
Raabe said his megagame will be a 10-to-30-person event style game with teams of players in large, hybridizing roles. The game will incorporate aspects of Model UN and board games into a larger experience of interaction and diplomacy.
His goal with his capstone project is to bring a large group of people together and have them negotiate and work together to solve problems. Raabe wants the participants to tell the story and give them an experience that they can't get in day-to-day life.
Raabe said the players inspire him to create the stories for his games.
"The best games that I enjoy are the ones that don't tell their own story entirely, but let the players tell the story," Raabe said. "This experience gives players the power to create their own worlds, rules, and stories. The interactive and creative experience is what the player will walk away with and remember."