Journalism
Panel Highlights Investigative Journalism, Women in Media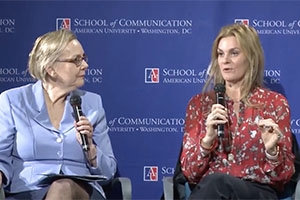 On Thursday, April 19th, American University School of Communication (SOC) Professor Jane Hall welcomed two Washington Post insiders to discuss the importance of the Oscar-nominated 2017 film, The Post, which highlights the tremendous impact investigative reporting can have. 
This conversation also recognized the unique challenges of women in journalism, including overcoming gender stereotypes in the field, as Katharine Graham did at The Washington Post in the 1960's and 1970's.
Joining Professor Jane Hall to view and discuss clips from the film during this event, which was part of the SOC American Forum series, were Katharine Weymouth, granddaughter of Washington Post publisher Katharine Graham, and Washington Post investigative reporter Kimbriell Kelly. Both shared their personal reactions to the film and discussed the implications of the Pentagon Papers case, investigative reporting, and the role of women in the media.
"It wasn't just about a newspaper and being a strong investigative reporter. It was capturing the experience that I felt as a woman in this industry," Kelly commented.
Weymouth, a former publisher and CEO of The Washington Post, shared her thoughts on the portrayal of Graham by Meryl Streep in the film and discussed the need for more diversity on corporate boards and in journalism.
Kelly, an award-winning Post reporter gave students an inside account of some of the challenges investigative reporters continue to face when reporting stories today. She gave students advice by describing some of her best techniques for working in the industry.
Most importantly, this crucial conversation detailed the responsibility the Press has in America, not only throughout history, but today. The Post takes the audience inside the Washington Post during the aftermath of the Vietnam War. In the film, Katherine Graham, owner and publisher of the paper, is presented with photocopies of classified documents detailing the U.S. involvement in this highly controversial war by a whistleblower.
She and her team of reporters must make important calculations about whether or not to expose these documents, the Pentagon Papers, to the public. This launches The Washington Post into a contested legal battle with the Nixon White House and intelligence agencies of the U.S. government. The film highlights the responsibility of the Press to hold government accountable and emphasizes important role the Press must play in ensuring our state of democracy.
This event was co-sponsored by the AU School of Communication Journalism Division; the Entertainment Media Alumni Alliance, a group of AU alums committed to creating a world-wide network of communication industry professionals; and SOC's Investigative Reporting Workshop, a non-profit, professional, newsroom that pairs experienced professional reporters and editors with graduate students.
The Post: Film Clips and Discussion was presented as part of the AU SOC 25th Anniversary celebration. For more information on the 25th Anniversary, as well as upcoming Anniversary events, visit the 25th Anniversary page.