Celebrating 25 years as a school and generations of making media that matter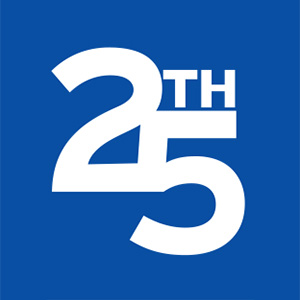 Image info
SOC celebrates 25 years as an independent school in 2018.
Image info
AU has been teaching film and television production since 1952.
Image info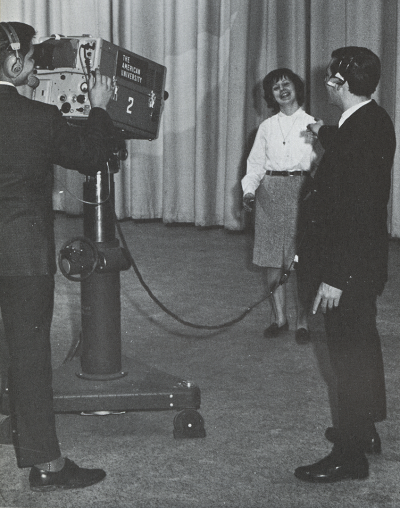 On February 26, 1993, the American University Board of Trustees officially made the School of Communication (SOC) independent from the College of Arts & Sciences (CAS), where it had resided since 1977. At face value, the move was a typical institutional reorganization. But from that change came a quarter century of growth that has impacted thousands of students who learned their craft here, and by extension, the millions of people touched by the media and scholarship they produce.
Building on Tradition
AU's track record of teaching communication and media goes back to the earliest days of the 20th century, with courses such as News Writing (1926), Video and Film Production (1952), and numerous public relations courses offered in 1952. These courses reflected the burgeoning technological advances in a range of media. Keeping pace with the evolution of the communication environment, the university created classes in television, served as the home to WAMU, which was launched as a student station in 1951, and then as a licensed FM station (unaffiliated with AU or SOC) in 1961, and offered hands-on instruction in photography and filmmaking. Beyond the lessons learned in the labs and classrooms, students also had extensive professional opportunities in DC through internships and part-time jobs.
Academy-Award winner Barry Levinson credits his success, in part, to the guidance he found at SOC.
"If artistic aptitude isn't nurtured," he said, "it doesn't know what to do. You need some kind of mentor, some guidance. The fact that one professor at American University had enough interest in me led me to working in a practical situation. That opportunity opened the door."
Levinson's trajectory in the early days of the program's history is shared by numerous alumni, among them: CNN Worldwide Anchor Alisyn Camerota (BA '88); David Drobis (MA '65), chairman emeritus of Ketchum, Inc.; Susan Zirinsky (BA '74), senior executive producer at CBS News; Darryl B. Frank (BA/SOC '91), co-head of DreamWorks Television; Mitchell H. Nedick (BA/SPA '73), EVP/CFO at The CW Network; and Joy Thomas Moore (BA/SOC '72, MA/SOC '73), president and CEO of JWS Media Consulting.
During this time, however, the school was competing for funding against other departments within CAS, a point that was particularly urgent in terms of keeping up with the rapid changes in equipment. As The Eagle reported in March 1992, the school's "editing facilities are inadequate... another necessary improvement would include making computers available to design classes. Furthermore, the broadcast center must purchase more effective cameras and video equipment." Also mentioned in the article: "Communication students will not come to an unaccredited school that lacks these basic essentials."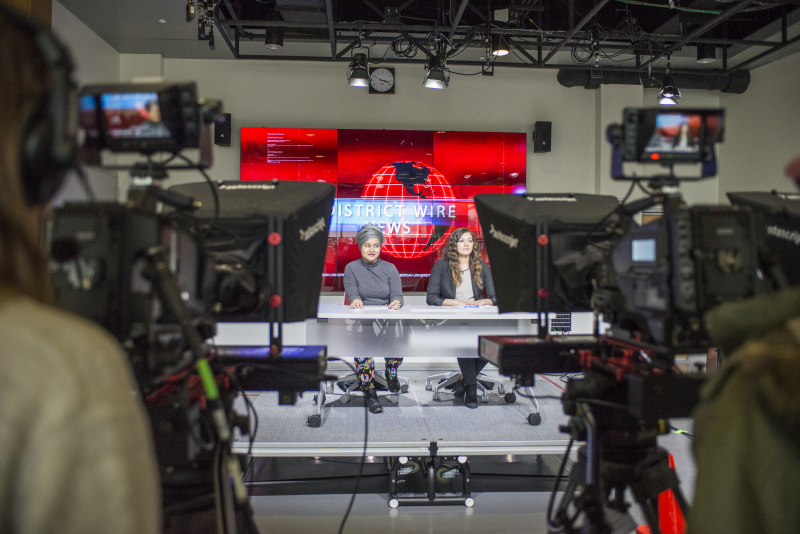 Independence Day
"Once we split from the college, it allowed us to sort of strike off on our own, set our goals, our own path," said John Douglass, who has been a professor of Film and Media Arts at SOC since 1978.
That path has seen many milestones. Numerically, the school went from 842 students and 26 full-time faculty in 1993 to 1,350 students and 62 full-time faculty in the 2017-2018 academic year. The number of degrees offered has increased from six to 17 and the number of divisions from three to its present four, including Communication Studies, Film & Media Arts, Journalism, and Public Communication.
Facilities also became a focal point. Classes, labs, and administrative areas were spread out among the Mary Graydon Center and the Media Production Center (formerly the Broadcast Center).
In addition to moving to the renovated historic McKinley building facilities in 2014, the school opened the doors to the AU Game Lab—an initiative done in partnership with CAS—in the new Don Myers Technology & Innovation Building on the East Campus.
"SOC has really come to its own," said SOC Dean Jeff Rutenbeck. "Independence has given us a much stronger sense of institutional identity and it's allowed us to expand some unique functions like the Media Innovation Lab (MIL) and the Malsi Doyle and Michael Forman Theater—places that define a lot of what we do now."
Making Media That Matter
In parallel with SOC's infrastructure improvements, the school has become nationally and internationally recognized for the centers and people who focus on the impact media have on society. Organizations such as the Center for Environmental Filmmaking, the Center for Media & Social Impact, the Internet Governance Lab, and the Investigative Reporting Workshop (which will also be celebrating its 10th anniversary next year), are contributing to and transforming the communication landscape.
"I founded the Center for Environmental Filmmaking at SOC because I was intensely focused on innovative ways to make environmental and wildlife films that were not only made ethically, but that had a significant and palpable impact on people's behavior or on public policy," said Center Director Chris Palmer. "SOC was the perfect place to found the Center because its diverse and eclectic programs were ideal for fostering social innovation and entrepreneurship. It is an ideal organization for inspiring a new generation of filmmakers and media experts."
Starting in early January, SOC will be announcing a number of events to celebrate the anniversary. Watch the website and calendar for details.
We want your help telling the story of SOC's rich history. Submit your memories and photos to SOCevents@american.edu.
SOC has grown to offering 17
degrees, from only 6 at its inception.
The school went from 26 full-time faculty in 1993 to 62
full-time faculty in the 2017-2018 academic year.
SOC had 842 students in 1993 and has 1,350
students in the 2017-2018 academic year.
Leena Jayaswal - 25 Years of Photography at SOC>
Leena Jayaswal is a documentary filmmaker, award-winning photographer and Professor in the School of Communication at American University in Washington DC, where she is the director of the Photography Concentration. This is her 25 years of photography at American University.
John Douglass - 25 Years of Film at SOC>
John Douglass is a full-time professor of Film and Media Arts. He has been at American for more than 30 years and through most of this time has served as director of the film and media arts division. This is his 25 years of film at the School of Communications.