Communications
United Entertainment Group's Building20 Challenge Lets PR Students Pitch to Pros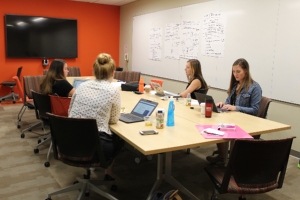 American University School of Communication (AU SOC) students were able to participate in a crash course on how to approach and answer a real world 'request for proposal' (RFP) and receive guidance and mentorship from members of United Entertainment Group (UEG) as part of an advertising bootcamp and contest called Building20 for juniors, seniors, and graduate students from April 13-14, 2018. The goal of Building20 is to "build space for creative minds from an array of backgrounds to develop ideas that allow brands to impact culture authentically."
The 16 students were broken up into four teams where each team had to create a response to the RFP and present their campaign later that same day. Their challenge was to develop an angle, big idea and activation concept that would drive expansion of interest of Speedo Fit for Gen-Z and Millennials in the United States. All teams had to brainstorm and create potential pitches and solutions to the RFP and a panel of judges judged their final conclusions.
The judging criteria were based on five ideas. The judges focused on whether the data, information and research had been effectively used to inform the angle, if the big idea clearly articulated the strategic plans outlined in the angle, if the activation concept tied to the emotion and intent of the big idea, and if the presentation was easy to follow. Groups were also awarded bonus points for excellence in the design of the presentation, for involvement of the whole team in the delivery of the presentation, and for presentation originality.
Each team had 15 minutes to present their response to Speedo Fit's RFP and had two minutes for a Q&A. The winning team consisted of Madden McDonagh, Jade Grove, Xana Pena, and Angela DiGiaimo. The winning team was awarded $5,000 and an all expense paid trip to New York to shadow UEG executives.
"This competition has been of the most valuable experiences of my college career", said McDonagh, one of the winners of the competition. Other participants added that they had gained a unique experience and had a chance to practice and improve their skills in pitching, creating campaigns and problem solving.
Learn more about Public Communication at AU SOC.