Communications
PR Students Partner with Boys Town DC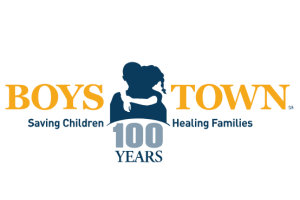 Every semester, Public Relations and Strategic Communication undergraduate students in Public Relations Portfolio gain hands-on experience working as a team, implementing various skills, techniques and strategies learned in previous classes by working with a real-world client.
This spring, Professor Gemma Puglisi mentored students as they produced deliverables from media campaigns, public service announcements, news releases, websites and events for a nationwide non-profit organization called Boys Town DC.
Boys Town DC's mission is to help at-risk youth and their families throughout various communities. The organization strives to improve circumstances for those who are suffering from abuse, addiction, abandonment and/or violence. Boys Town DC is celebrating 25 years in the community, and nationally Boys Town has been helping families for 100 years.
Students were tasked with developing a strategic communication plan based on client goals. The plan involved everything from event planning, media and community outreach, graphics and marketing.
The students helped raise the organization's profile and promote its work to raise more funds. The deliverables developed by the students were week-long events on campus and assisting in the coordination and media awareness for the Boys Town's annual "Racing for Roses" gala on May 5, 2018. Students also created an on-campus campaign, called "Boys Town Week AU." All donations from the week have gone directly to Boys Town DC.
"Throughout the Boys Town Week AU campaign, we wanted to raise awareness in the AU community and raise as much money as we could," Kaitlin Rymer, the communication manager of the Boys Town Project said.
The soon-to-be graduate listed off the events that the team put together for AU, "We had a week long book drive, tabled on the quad, held a panel with the Development Coordinator, Director of National Advocacy and Chief Psychology of the DC campus at Boys Town, a fundraiser at District Taco, a documentary screening about Boys Town and a happy hour fundraiser at The Front Page!"
Rymer said she "genuinely loved the work that Boys Town does."
"We were able to help this organization how we knew best, which was the greatest feeling," she said.
The Boys Town DC "Racing for the Roses" third annual gala is on May 5th at the Capital Hilton from 4 p.m. to 7 p.m. There will be an open bar, food, live music, games and a hat contest-culminating in a live broadcast of the 144th Kentucky Derby on two huge screens.
All proceeds will support Boys Town Washington DC and its programs.
"AU students can get involved by spreading the message of the work they do and through donating," Rymer said. "Any donated effort towards Boys Town goes directly to the children and families they support."