Communications
Color of Music Collective Unites Diverse Voices for Change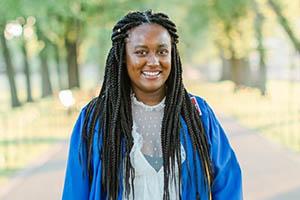 This past spring, AU senior Mia Van Allen, a PR and Strategic Communication major, was feeling frustrated. As she sat in her third recruitment session for an experiential learning trip to LA focusing on the music industry, she knew the trip would be a terrific opportunity to meet and gain exposure to successful music professionals, but the sessions were also exposing the lack of diversity in the industry. Van Allen walked out of her session and onto the shuttle bus discouraged and upset.
While Van Allen had experienced being the only person of color in the many internships she had over the years, the sessions put her experiences in a larger context and planted a seed that would soon bloom. A long conversation on the ride back with AU professors Scott Talan and John Simson cemented her resolve for action. Just a couple months later, Van Allen founded the nonprofit Color of Music Collective. With the goal of amplifying voices of people of color and LGBTQ+ individuals working in the music industry, the Collective offers free virtual networking panels, a newsletter, a job and internships board, a robust blog and a vibrant community of more than 60 volunteers.
Before the Collective, Van Allen would comb LinkedIn for POC mentors to gain guidance on job/internship hunting and navigating the workplace as a POC. The Collective's networking panels aim to fill that void by fostering these important conversations and curating guidance and inspiration. The panels have reached students from NYU, Belmont, Harvard, Tulane, USC, UCLA, Stanford, Yale and more. Topics have included: The Power of Digital Marketing + Promotion; Navigating the Job Market as a POC and/or LGBTQ+ Individual; Latin Music and Culture; Running a Label During a Pandemic; Being LGBTQ+ in the Industry; Creative Strategy Behind LGBTQ+ Artists; and How Music Festivals Can Show Pride and Support the LGBTQ+ Community.
Van Allen explained, "The goal is to change the lack of representation for these underrepresented groups in music by uniting our communities. We want to hear from the crew, production team, photographers, A&R, artist managers, promoters — you name it. I think these conversations need to happen more in our music industry, which is predominately made up of white older men." She recognizes that companies do want to become more diverse, and her goal is to provide a community for music industry professionals to come together to help make this happen.
Creating the Collective "has been an amazing experience," Van Allen said, "and I couldn't have done it without my AU SOC professors." She remains in touch with Talan, with whom she took Understanding Media 100 and PR Writing. She continues to take his advice to spend time every week "no matter what" networking. Talan is one of her favorite professors who also came up with the name for the Collective.
In addition, she's a big fan of professors Jason Mollica and Pallavi Kumar. She went into Mollica's Digital Analytics class feeling a bit intimidated because she wasn't experienced with data or numbers. However, Mollica went the extra mile to help her succeed and understand how analyzing data ultimately improves messaging and strategies for action. Additionally, Kumar's PR Case Studies class was instrumental in paving the path for where she is today.
Van Allen's advice to incoming AU students is to forge relationships with your professors - go to office hours regularly and reach out when needed. Born in Chicago, Van Allen moved to Arlington, VA when she was 14 and soon became enamored with the DC community, especially AU. A strong ambassador for AU, Van Allen has three close friends attending AU as freshmen this year. Her favorite place to relax while an AU student was at Beau Thai, becoming a Sunday tradition along with foraging in the local farmers markets.
It was an alert in The Hollywood Reporter indicating studios in LA were re-opening that prompted Van Allen to leverage her network list and land her first post-grad job at The Village Studios in LA assisting the CEO. Van Allen believes her work advocating for POC in the music industry was instrumental in her hiring. She proudly explains that her office is very diverse, and the CEO works hard to provide a platform for POC and LGBQT+ individuals. Van Allen is also enjoying the fast-paced work environment despite the challenges presented by Covid. When not working, Van Allen relishes the LA lifestyle and exploring places such as Runyon Canyon and Santa Monica.
Most recently, Van Allen taught an orientation week seminar at NYU for students entering the music business program about being a POC in the entertainment industry. Stay tuned to see what other impressive accomplishments this AU graduate has in store.