Television & Film
Comedy in Communication: Filmmakers Connect Humor and Science in Eco-Comedy Videos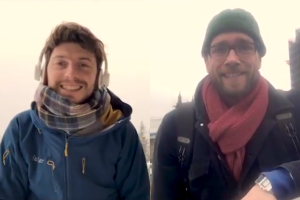 Who said you couldn't have fun talking about the environment and conservation? The Center for Environmental Filmmaking at American University and The Nature Conservancy announced the winners for this year's Eco-Comedy Video Competition on March 20. Their video shorts premiered on the wide-screen in the Doyle Forman Theater.
Shorts needed to be related to this year's Conservation and Environmental Protection and communicate to a broad audience a clear and humorous message around the theme in under three minutes. The competition has been held since 2007.
"Comedy is a great vehicle for encouraging conservation, especially when things are looking so serious. Certainly, there's a lot to be serious about, but zealousness can turn people off," said Chris Palmer, the creator of the competition and the director for the Center of Environmental Filmmaking.
The grand prize was $2,000 from the Center of Environmental Filmmaking. The two co-sponsors received over 30 submissions from all over the world. A panel of five judges reviewed the submissions and made their final calls based on the overall merit of the entries.
Honorable mentions included EPN: Environmental Protection Ninja by Malcolm Washington and The Gum by Itir Sezik.
Finalists were the following:
Congratulations to the grand winners, Theodore Blossom and Robbie Price with their video @Humanity.
Theodore Blossom is based in London and produces stage shows, films and comedy as a environmental communicator. Robbie Price is a doctoral student and filmmaker in Switzerland.
The Viewer's Choice Winners were Stephanie Brown and Tim Allen's video, Journey to the Future.
Humor has its ways of affecting how people receive a message.
"When we read humorless, serious arguments, we tend to be skeptical and read with our defenses up. But when we're laughing, we relax and become receptive to new ideas," Palmer said.
The competition also caught the eye of environmental reporter Christopher Dunagan, who writes that this year's entries were unique and higher in production quality.
You can check out some of the videos from last year's competition.