Communications
Graduate Journalism Fellows 'Rose to the Top'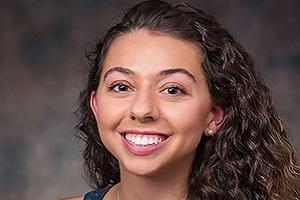 Three prestigious journalism fellowships were awarded this fall to American University School of Communication (AU SOC) journalism graduate students Kimberly Cataudella, Lola Fadulu and Zeina Mohammed.
Cataudella graduated in May from AU with a bachelor's degree in journalism and religious studies and is the AU Data Fellow at the Center for Public Integrity.
Fadulu is The Washington Post Reporting Fellow and comes to AU after a reporting fellowship at The New York Times and working as an assistant editor at the Atlantic. She received her bachelor's degree in philosophy in 2017 from Amherst College.
Mohammed is the Investigative Reporting Workshop Fellow (IRW) and received a bachelor's degree in English and journalism in May from George Washington University.
AU Journalism Division Director Amy Eisman praised all three, saying they "rose to the top in a highly competitive environment, each bringing unique experiences and skills to each position."
Cataudella, for example, had studied data journalism under SOC's Jennifer LaFleur and is now applying her experience to her work at CPI.
With a long-term goal of a career in academia, Cataudella is in AU's five-year program in journalism, having just finished her bachelor's and moved directly to the master's program.
"The investigative journalism specialization through the AU master's program," Cataudella said, "is great because I get to practice and learn from people who are very skilled at reporting investigative stories." Catuadella said she enjoyed SOC's Journalism Boot Camp, an intense, three-week course during the summer introducing students to information-gathering, writing, reporting and producing for a variety of media platforms.
Cataudella dove into data projects at CPI, where she is "cleaning, vetting and analyzing data for large-scale investigative stories being produced all across the newsroom."
Like her colleagues, she is juggling a full course load while working for a news organization. "Every day we have a job to do," she said, "and we have to do it quickly and accurately."
While at AU, Cataudella worked as the sports editor and a news reporter for the Eagle and interned with IRW, SOC's independent newsroom. She also held internships at Newsday and NBC Sports. This past spring, Cataudella received AU's Streitmatter Award for Excellence, which honors popular SOC professor and alumnus Rodger Streitmatter.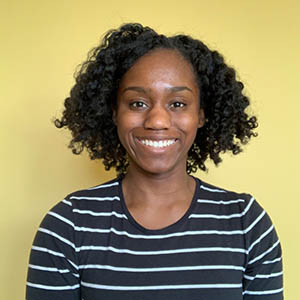 At The Washington Post, Fadulu has already filed several stories since joining the Metro staff in August, including articles on the Black-White life expectancy gap in DC, maternal health and the March on Washington.
Professor John Sullivan, also a Washington Post investigative reporter and senior editor at IRW, said, "Lola instantly impressed us with her smarts and tenacity. Most fellows are assigned a beat, but Lola wanted to pitch her own on health care in the District."
He said she is now looking at health disparities in the region. "I'm excited to see what she comes up with," he said, adding, "I'm sure it will be great work."
Fadulu previously worked on digital content focused on health, education, and technology at The Atlantic. One of the projects she wrote and edited presciently explored the future of work and the technology associated with it. She then headed to The Times Washington bureau, where she covered federal safety- net programs with a focus on the Department of Housing and Urban Development and the Department of Agriculture.
Fadulu enjoyed writing and worked for two campus publications while a student at Amherst. She was attracted to SOC's graduate journalism program, she said, for both the quality of the professors and the partnership SOC has with The Washington Post. The course Fadulu said she is most excited about is LaFleur's on data journalism. Fadulu said she is learning "the many different ways you can organize and extract data. I'm so much more confident now, and this skill will help make my stories that much stronger."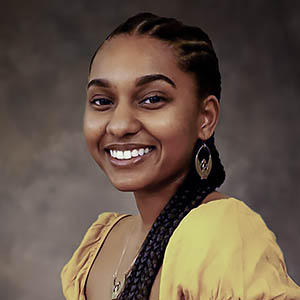 Mohammed said she "is thrilled to be able to learn from people who know how to do it really well." Lynne Perri, professor of journalism and IRW's managing editor, said: "We're excited to have Zeina join the staff at IRW this year as our Graduate Fellow. She'll be working on one in-depth story that we expect will take several months and also helping with social media."
After completing her undergraduate studies at George Washington University, Mohammed came directly to AU for graduate work. Mohammed said she has been "enjoying the rigorous master's program, especially the fascinating stories SOC faculty have shared about their experiences as journalists."
As an undergrad, Mohammed was a culture writer for the GW Hatchet and most recently covered the pandemic's effects on student life and the 2020 protests. With parents who worked for the World Bank, Mohammed grew up traveling throughout the Middle East, which including spending time in Saudi Arabia, Kuwait and Egypt. Mohammed, who is originally from Sudan, said her long-term goal is to be an East African correspondent.
Last year's Journalism fellows include Alexandra Ellerbeck at CPI, who is currently completing short-term assignments for the Washington Post. And the 2019-2020 Washington Post fellow, Lauren Lumpkin, was hired by the Post as a reporter for higher education, covering the metro area. Austin Ramsey is continuing his role at IRW — he was last year's graduate fellow — and is reporting a major investigative story about water use in an IRW partnership with a New Orleans public-radio station.