Communications
Media Production Center Reopens, Featuring State of the Art Equipment and Facilities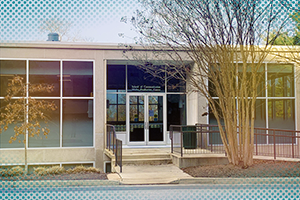 Students doing cutting-edge work in audio, video, and photo editing now have the newest and best facilities and equipment to do their work. The newly renovated Media Production Center (MPC) at American University's School of Communication (SOC) held its grand reopening on January 21. 
The construction, which began in May 2019, aimed to renovate necessary spaces already existing in the MPC and to create space for new, state-of-the-art facilities. These improved spaces increase opportunities for hands-on learning and also allow the SOC to offer a new Bachelor of Arts in Photography program in conjunction with the College of Arts and Sciences (CAS).
Several existing MPC facilities were completely renovated and are better than ever. Those spaces include one classroom, four editing suites, a 16mm editing suite, a Black Box studio, and an expansion of the equipment room known as "The Cage."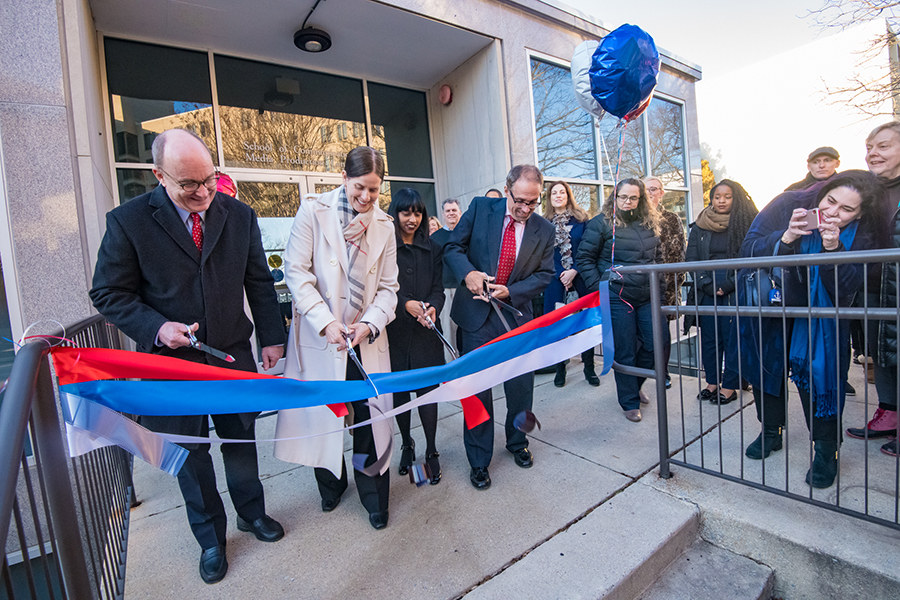 Various new spaces were created to facilitate advanced audio and video editing. They include a new state-of-the-art audio suite and classroom, ADR (Automated Dialogue Replacement) and foley studio and control room, and a makeup and costume dressing room. These will allow students to work alone or in small groups to record projects or polish them to a professional level. The advanced equipment permits students to further explore sophisticated options for video and audio editing in a space oriented to SOC and its programs of study.
The newly renovated building also boasts exceptional facilities for photo editing and photography instruction: a new film processing lab, a darkroom, an advanced digital photo lab, a framing and mounting room, and faculty and staff offices. Professor Shaun Schroth, manager of photographic services at American University, is especially excited about these spaces. "One of the most exciting aspects of the new space is that all of the lab spaces...are designed to be able to conduct demonstrations in a much more comfortable environment." 
Some classroom space was lost to make room for the new facilities. Schroth continued, "Basically, where we lost some space, we gained much needed space. I'm really looking forward to teaching in all of them."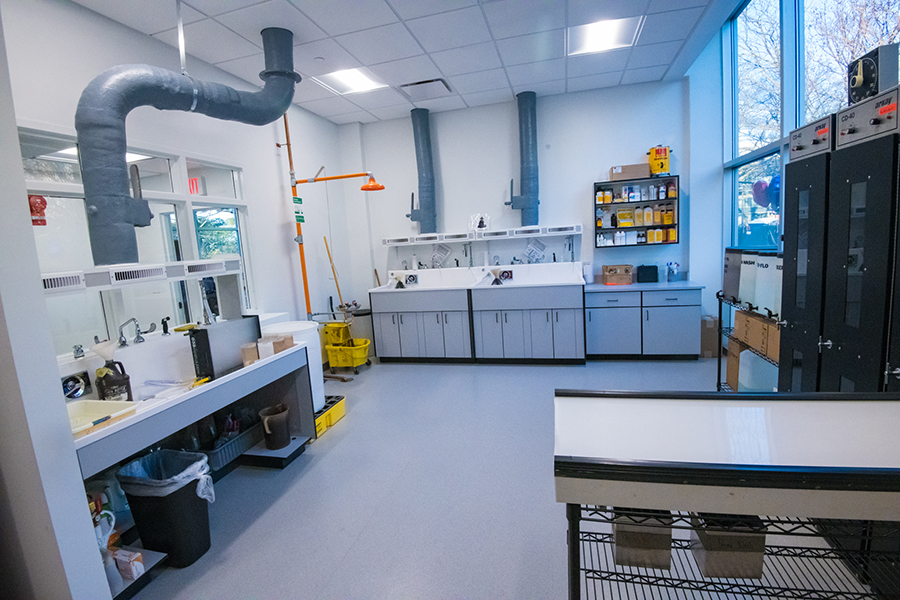 Previously, the photo lab and facilities were housed in a corner of the Mary Graydon Center building,  SOC's former home. They were disconnected from the other facilities, needed technological and physical updates, and were inadequate to support the new photography major. Furthermore, a new television studio, the Media Innovation Lab, built in the 2014 McKinley renovation, allows the Black Box studio to instead be used for photography, film and Game Lab — another CAS/SOC collaboration — productions. Now the MPC can serve multiple students and multiple interests. 
The new space is especially important to students majoring in the new SOC/CAS photography program. Professor Leena Jayaswal, co-director of the new BA program, remembered visiting the MPC as a student, and remarked on how important it was to give students a dedicated space to produce high-quality work. These facility investments will support the new program, ensuring that students have the ability to study without impediment. Students can now pursue the full development of ideas, from inception to delivery.
Overall, the space will allow students to delve deeper into a number of subjects of study that all build upon the next. Gil Johnson, technical assistant specialist, remarked that, "film and photo students can get funky in here, and push the limits of creativity." He added, "All of the resources are in the right place and all of the right people are at your fingertips and in-house. It's just a matter of what you want to do." 
The Media Production Center will create a home for students to learn and flourish creatively for years to come. A full list of available facilities is listed, here.