Communications
SOC and CAS Partner for an All New Photography Degree Program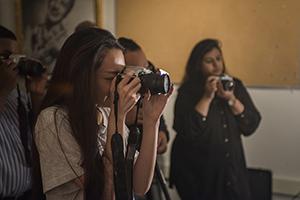 The American University School of Communication (SOC), College of Arts and Sciences (CAS), and the Department of Art are excited to announce the brand new B.A in Photography degree program.
This program will begin enrollment in spring 2020. The program includes historical, theoretical, and practical approaches to the art of photography. These days we are a visual media saturated society [with a] highly developed visual language," said professorial lecturer Naoko Wowsugi. "This collaboration offers expanded sharing resources and a more specialized education.
Students who complete the program understand photography's changing role in the greater art world; the why and how of photography's adoption by fine artists, commercial studios, and the general public.
For co-director of the program Leena Jayaswal, she began to explore photography in third grade which coincided with her family's migration to the United States "I was viewing through the lens how U.S. culture was," she said.
Similarly, Wowsugi used photography to communicate before she learned English. "You can cultivate the community relationship and make it stronger…[I was] sharing my feelings," she said. "[Photography is] very interpersonal, you share a very intense created moment in a way that you cannot connect before. It's a moment that never existed." 
In the past, photography was offered as a concentration in SOC with a few classes offered in CAS. "[Former] students are working New York Times, have won Time Magazine Photographer of the year, and have been shown in galleries around the world, [so] imagine what we can do with a major," said Jayaswal.  
Before completion, through a final project and exhibition, students will delve into a relevant topic of their choice and analyze it through a specific socio-cultural lens. The program will allow students to relate technical developments in photography to aesthetic and conceptual developments and follow movements and trends that coincide with broader art history.
"Media can be manipulated; its history and theory and [so] you have to be critical," said Jayaswal. "Students develop who they are as a photographer in their own eyes," which is truly what this new program is all about. Ten students each academic year will get the chance to experience all of this in its fullest. "I'm excited for students to declare a photo major," she said. "The sky's the limit!"