Communications
New Leadership for Film and Media Arts at American University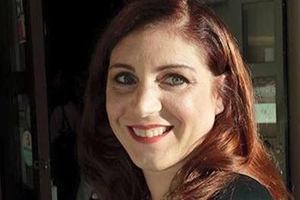 For the first time in its history, American University School of Communication (AU SOC) is announcing a new Director of its Film and Media Arts Division. Associate Professor John Douglass, who directed and built the program for over three decades, has passed the torch to Associate Professor Brigid Maher. Maher's appointment signals a move to embrace a broad vision of Film and Media Arts, including multi-platform projects and game design. She, in turn, welcomes Assistant Professor Kyle Brannon as the new Associate Director for the division. Maher has hit the ground running, and has already begun to prepare for the next chapter in the division's history, launching a three-year plan that includes many innovations to keep the AU Film and Media Arts program both respected and vital.
"I am thrilled to be working with our award winning faculty to continue to support the dynamic work of our students. I look forward to leading the division as we increase our visibility and make our successes known nationally," said Maher.
Specific plans announced by Maher include curriculum review of graduate programs to streamline the application and enrich the advising process. There is also a goal to increase hybrid and online learning opportunities.
There will be a big push toward providing new opportunities for exposure for both student and faculty work through SOC's Center for Environmental Filmmaking and Center for Media & Social Impact (CMSI), through shared programs and sponsorships, conference opportunities and external, professional exposure.
Increased integration of the Game Design MA, the division's newest degree, into division activities and programs is also on the agenda.
Maher, who came to SOC in 2004 and has served as associate director of the division for the past several years, is an award-winning filmmaker and the co-director of CMSI. She also serves as President-Elect for the International Digital Media Arts Association and Conference Vice-President for the University Film and Video Association.
Maher spent much of 2015 promoting her latest documentary, "The Mama Sherpas," which follows nurse-midwives, the doctors they work with, and their patients over the course of two years. Maher's research and outreach to the midwife community also attracted the interest of talk show host and women's health advocate, Ricki Lake, who stepped in with her producing partner, Abby Epstein, as executive producer prior to the release of the film. Maher signed a distribution agreement with Bond Influence and in summer 2015 the film had an event-theatrical release followed by a VOD release on platforms such as iTunes, Amazon, Google Play and Vudu and was also picked up for SVOD by Sundance Doc Club. The film is currently screening across the country and on broadcast in Brasil. "The Mama Sherpas" won the Media Award at the American College of Nurse-Midwives annual meeting and is starting a festival tour in 2016.
Maher's previous work has focused on women's issues with a focus on the Middle East. Her award winning documentary, "Veiled Voices," followed three Muslim religious leaders in Egypt, Syria and Lebanon and screened on over 150 public television stations across the U.S. and was also featured in international film festivals. In 2005, she taught in Lebanon as a Fulbright Senior Scholar where she filmed a festival award winning fiction short, AWOL, shot on location in in the Bekaa Valley and distributed by Third World Newsreel.
Maher's scholarly writing focuses on the interplay between traditional film and new media theories. Her writings have been published by Cilect, the International Digital Media Arts Conference Journal and featured in the D|N|A Anthology.