Communications
PBS to Air Alum's Award-Winning Film on Desecration of Memorials to Slain Black Youth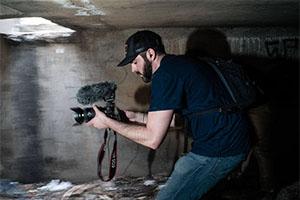 Alumnus Matt Cipollone's short film Signs has won an award at the University of Mississippi Oxford Film Festival, where it will premiere in this month. The film has also been selected to air as an episode of the PBS series Reel South.
Cipollone created Signs in April 2018 as a project of the Lens Collective workshop, which is an in-depth, multimedia workshop that focuses on cultural preservation through digital storytelling. Last year's theme was civil rights in the Mississippi Delta.
Signs is about the racist defacing of Emmett Till memorials and the short film received the first Center for Media & Social Impact Jefferey Tuchman Social Justice Documentary Award at this past year's Visions Awards for Student Filmmakers.
The workshop is a 24-hour film challenge – the students are given 12 hours to film, and the edits must be done by the end of the next day. Students are paired up with students from different universities and are given a faculty mentor to consult with to help with the creation process.


"Lens Collective was one of the absolute highlights of my entire graduate program, and it has now provided one of the most significant professional breakthroughs of my career so far in this new PBS license/ acquisition," Cipollone said.
Cipollone came to American University School of Communication (AU SOC) because he was looking for a media program that allowed him to focus on social issues. While at AU, he worked with award-winning international journalist and professor Bill Gentile on his series, "Freelancers," which is about the new generation of young and tech-savvy journalists who are filling the void left by mainstream media outlets that are cutting back from foreign news correspondents.
Cipollone traveled to Mexico with Gentile to create a film about freelance foreign correspondents. He held several roles in the creation of the project, including assistant producer, sound recordist, and director of photography.
His time in the Film and Electronic Media program gave him the tools and skills he needed to become a professional filmmaker. "My goal is to create compelling documentary media for nonprofits that work on issues I care about", said Cipollone. "With the help of my professors, I [was] able to start that trajectory while I [was] a student and not wait until after graduation."