Communications
Professionals Share Crucial Insights on Navigating Barriers to Equity and Inclusion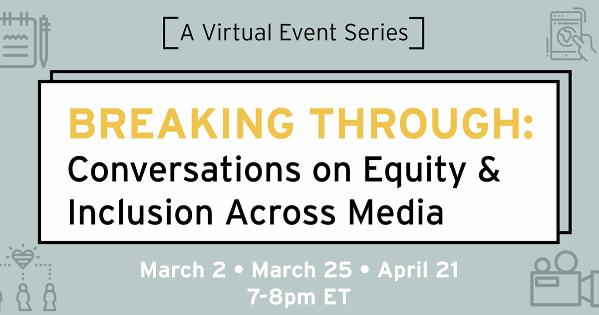 This semester, American University School of Communication (AU SOC) hosted a three-part panel series, Breaking Through: Conversations on Equity & Inclusion Across Media. The series provided SOC students opportunities to hear dialogue surrounding the feat of creating industry-wide change, how to navigate and combat underrepresentation in media, and tools for "breaking through" barriers to equity, along with receiving career advice through personal networking sessions. The three panels included a range of experts from different media industries and represented a number of perspectives, and were moderated by AU staff members. Watch videos of the events.
Each of the events in this series began by distinguishing the key difference between diversity and "true equity" in media. Lauren Lumpkin, a higher education reporter for The Washington Post, identified the numbers-based approach often associated with diversity, clarifying that equity not only requires the hiring of more people from underrepresented experiences but the assurance that they are welcomed with the same access and opportunities as those from more privileged groups. Echoing this, Natalie Edwards, the chief diversity officer at National Grid, shared a piece of insight from her grandmother during the third event. She said, "diversity is simply how do you move forward...equity is also looking backward and forwards." A huge piece of equity, Edwards said, is accountability and the acknowledgment for many companies that this work has never been given the weight it should have been given. On a hopeful note, GEICO Corporate Communications/Public Relations Specialist Kevin Walker reflected on his career over the years and the ways in which he feels people currently have an increased willingness to acknowledge that diverse voices need to be at the table, though there is still much work to be done in areas of equity.
Conversations then shifted to the value of representation in media, across all fields, with TIME 100 Talks production assistant Jenna Caldwell reiterating ideas expressed in the discourse on true equity. She highlighted the value of not only having people from underrepresented groups in the room, but at the table, making decisions, and influencing the way the media, in turn, represent underrepresented groups. As an example of this, Ted Kim, Director of Early Career Journalism Strategy and Recruiting for The New York Times, shared how, following the hateful shooting in Atlanta last month, having diversity in experiences and thought represented on a team allowed for more nuanced reporting in the stories and decision making on how best to honor the situation. Kavell Brown, however, is still hesitant to "hand out roses," acknowledging how, though media is slowly but surely reforming itself, it has also played a significant role in perpetuating harmful narratives and stereotypes.
As the various panels explored stereotypes and their impacts, panelists addressed how they have navigated harmful situations, microaggressions, and barriers to equity in the workplace. SOC Inclusion Officer and professor Priya Doshi clarified that, despite their name, "microaggressions are called that not because they're not majorly affecting us, but really because people can easily brush them off." Lumpkin explained how this can make it increasingly difficult to be taken seriously when attempting to address these issues, especially with HR. Both Lumpkin and Kex Rhodes, an Emmy-nominated writer, producer and director of films and branded content for multiscreen platforms, offered the solution of keeping a list of microaggressive or harmful interactions, not out of malintent, but so that it can easily be identified that an established pattern is occurring. Rhodes clarified that students should still remain professional in these situations, but never be afraid to stand up for themselves.
Though students had more opportunities to receive personalized advice at the concluding networking session of each event, panelists were generous to offer general advice both from equity & inclusion and career perspectives. Alyssa Bradley, an account coordinator at Fenton, for example, offered how one of the best ways she has navigated barriers to equity and advanced her career is to always find someone who looks like her at various internships and volunteer experiences, whether in person or over email, form a connection, and build a relationship. These connections, Bradley has found, have always helped her feel supported both professionally and personally in whatever endeavors she went on to pursue. Kim expanded on this, wishing he dedicated more time to relationship building in media, especially those beyond transactional connections, early in his career. Finally, from a career standpoint, NBC4 Content Producer Brandon Benavides emphasized how crucial internships are in setting students apart from candidates with similar qualifications. He encouraged students to find their niche in their field, take advantage of the opportunity that internships provide, and make an impression so that mentors and supervisors remember them in the future.
The final event in the series concluded with an important but often overlooked discourse. Edwards explored how self-care goes hand in hand with DEI and communications work. For those who are most impacted by these oppressions, taking time to heal, disconnect, and give your minds a break is especially important. Further, USDA - Branch Chief, Office of Diversity & Inclusion by day and filmmaker by passion, Shayla Racquel discussed normalizing the practice of designating hours each week as "out of office," even when you are not busy, to take the necessary and healthy space for rest, especially in a virtual realm in which people are much more readily accessible. She further emphasized how crucial finding passion in your profession is for healing, and in her closing words, expressed, "your joy matters and your joy is revolutionary."