Communications
SOC Hosts Ethnographer Jeffrey Lane to Discuss Award-Winning Book, "The Digital Street"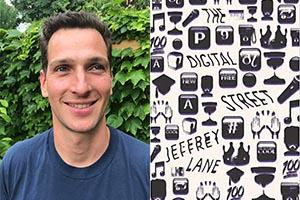 The School of Communication's Internet Governance Lab hosted Jeffrey Lane, assistant professor of communication at Rutgers University, on February 27 for a roundtable discussion of his new, award-winning book, "The Digital Street."  Lane's book explores how social media plays a huge role in the extension of street life among youth, and how it can lead to future change in urban areas. Professor Aram Sinnreich, an expert in culture, law and technology served as a panelist in the roundtable discussion. 
  
"The Digital Street" addresses the role of communication and technology in the transformation of an urban neighborhood. Based on five years of ethnographic observations, Lane illustrates the online and offline experiences of black teenagers that spent time at the Harlem Children's Zone during a time of sweeping gentrification when social media came to permeate all facets of life. The book shows how street life in Harlem plays out on and across the physical and digital streets among youth, neighborhood adults, and the authorities. 
Dr. Lane's interest in urban ethnography began in college. For this book, he conducted research in Harlem, where he studied everyday interactions between teenagers and adults in the neighborhood and how their interactions would translate through social media. Using a methodology that combined urban and digital ethnography, Lane immersed himself in their way of life.
"The idea of the method is to start with relationships rooted in person, rooted in the neighborhood, extend these online and then be in a position to compare and contrast the things that people say and do in person and on the Internet," Lane said. 
Lane observed the challenges parents in these neighborhoods face as they simultaneously live in poverty and in a digital world, and he saw firsthand how boys and girls had different types of interactions as well as limitations due to their environment. He also witnessed the police work their way through these inner-city neighborhoods by using social media to investigate and prosecute youth crime. On the other hand, he observed that social media can provide at-risk youth with the chance to reduce violence. 
Audience members were able to have an open dialogue with the author as he continued through his presentation. One audience member wanted to know more about what Lane found to be most intriguing during his five years of field work as a volunteer outreach worker. 
"I was seeing that these young teenagers were totally open to the relationships around them and that they were managing these relationships," he said. "They were also vulnerable as they were dealing with different content collapse." 
"The Digital Street" is available online and published by the Oxford University Press.