Communications
Students, Faculty and Alums Shine at ONA
The American University School of Communication (AU SOC) had a major presence at the 2017 Online News Association (ONA) conference, Oct. 5-7, in Washington, D.C., the largest gathering of digital journalists in the world.
AU SOC hosted two high-profile events which bookended the main conference which drew more than 2,000 participants.
ONA U: Student Mini-Conference
AU SOC hosted more than 120 students on campus Wednesday night at a mini-conference focusing on tips, tools and resources for journalism students and young professionals as they start their careers.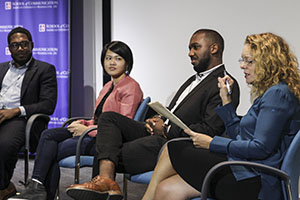 Eighteen fantastic speakers including Professors Amy Eisman, Margot Susca, Lynne Perri and former SOC professor Angie Chuang spoke for five sessions held throughout the school.
Students from Howard University, George Mason University, Kent State University, Penn State University, UC Boulder, University of South Dakota, Harvard University and more were completely engaged throughout the sessions, asking great questions and approaching the speakers afterward for additional info and follow-up.
You can check out the coverage on Twitter, under the hashtag #ONAU.
ONA was so impressed with ONA U that it is interested in replicating it at their main conference in Austin next year.
SOC in the Student Newsroom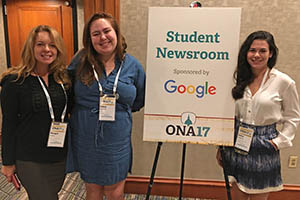 SOC boasted two student members in the ONA Student Newsroom; Alicia Abelson and Haley Samsel were among 20 top journalism students selected from across the country. A third SOC rep in the newsroom was professor Margot Susca, who devoted her time and shared expertise as a Student Newsroom mentor.
SOC at the Conference
Professors Amy Eisman and Jeremiah Patterson also had the privilege of serving on two panels as part of the conference itself.
Eisman hosted a poignant discussion about women in the newsroom. They talked about some of the issues women face, including pay, managing down and up and finding a seat at the table. It was a packed room and people were really energized by the discussion.
Watch the recorded livestream and catch up on all the Twitter buzz about her session here.
Patterson spoke on a panel about making the transition from doing journalism to teaching journalism. We talked about challenges journalism professors face -- keeping up with tech in the classroom, managing student expectations -- and some of the benefits, like getting to see your students land jobs in newsrooms.
You can follow some of the social curation for the session here.
Several other faculty members attended, including Jill Olmsted, Lynne Perri, Sherri Williams, Jennifer LaFleur and Pat Aufderheide in attendance. Courtney Rozen brought seven staff members from The Eagle. Riddhi Sarkar from AmWord and Lauren Lumpkin from Black Print also came. SOC also sent two graduate students, Samuel Northrop and Daisy Brumby.
SOC Reception Honoring Benet Wilson & Jim Brady
On Friday, we had about 100 people attend an SOC reception to honor digital journalism standouts Benet Wilson and Jim Brady with the SOC Distinguished Communicator Award. Dean Rutenbeck presented the SOC Distinguished Communicator Award to SOC alums Wilson and Brady. They were celebrated for their outstanding contributions to online news and journalism as well as their efforts to encourage the next generation of journalists.
Learn more about Journalism degree programs at SOC