Communications
Student Commencement Speakers Embrace the Power of Media to Propel Change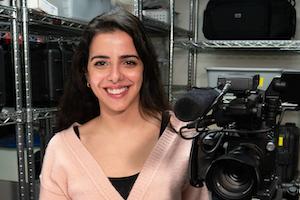 Grace Ibrahim and Jozette Allah-Mensah will be the respective graduate and undergraduate student speakers at the 2019 American University School of Communication (AU SOC) Commencement ceremony. Their community involvement and passion for media exemplifies SOC's active and creative student body.
Graduate speaker: Grace Ibrahim
Grace Ibrahim's road to a graduate degree in Film and Media Arts was not without its challenges. After moving to the US from Saudi Arabia to get her Bachelor's in communication at SOC, an immigration issue forced her to restart her life in Jordan, where she worked in PR and Marketing for two years. However, a newfound passion for film combined with a personal story she now felt compelled to share sent her back to SOC to get her graduate degree. Ibrahim has worked in film, photography, graphic design and public relations. Last summer, she attended the SOC LA Intensive, an experience she described as "eye opening." 
"We were able to learn from the best in the industry, and experience first-hand the dedication, efforts, and will power that go into being a strong player in this field," she said.
Having earned two degrees from SOC, Ibrahim says its community of "incredibly wise and talented professors, mentors and students" as integral to what she learned. "Whether it be about media, film, documentaries or even business, my knowledge of this field would not be at its best without having encountered all of these amazing people."
Undergraduate Speaker: Jozette Allah-Mensah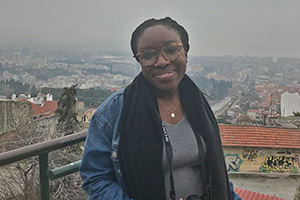 Jozette Allah-Mensah has been an involved and active student in and out of the classroom her entire time at SOC, where she earned a a Bachelor's degree in Journalism with a minor in marketing. She started her studies working from a local angle, interviewing residents of her Maryland hometown, Germantown, about their lives and work in the community. She also contributed as a writer and editor to the AU chapter of the student journalism platform, The Odyssey Online.
Allah-Mensah expanded her professional skills through communications and marketing positions at Points of Light, the WishDish, and Precision Strategies. Last summer, she interned at National Geographic, contributing to their international storytelling initiative. In the fall, when the nation's eyes turned toward the voting booth for the Midterm elections, Jozette jumped in as a Mobilization Intern at the Democratic National Committee.
Back on campus, Allah-Mensah contributed her talents to the Undergraduate Office of Academic Affairs, where she was a Student Staff Assistant, and gave campus tours as part of the AU Ambassadors. Beyond perspective students, Allah-Mensah was also a mentor to freshman, serving as a Peer Facilitator in the AUx program, helping them make the transition to college life. As she moves beyond her time at SOC, Allah-Mensah said she is "so grateful to have had the experiences SOC has brought her these past four years."