Communications
The 3 Ps of Public Speaking with Gillie Haynes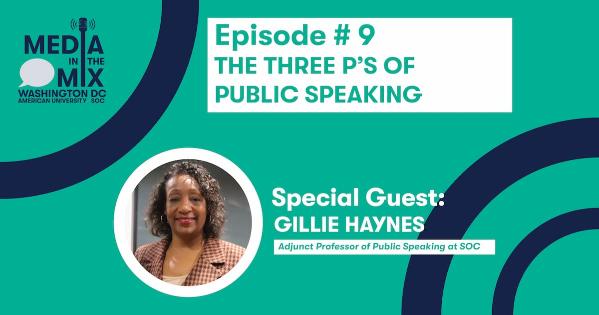 Meet School of Communication (AU SOC) Adjunct Professor Gillie Haynes. She's in the business of building confidence. Haynes recently brought her vast media expertise to the Media and the Mix podcast and sat down with Grace Ibrahim to talk all things public speaking. As a professor, communication professional, author, journalist and public speaking guru, Haynes wears many hats. In this bonus Q&A, she shares some things we bet you don't know about her
AU SOC: What is your favorite spot on campus?  
Haynes: My favorite spot on campus is the School of Communication...McKinley. I'm excited about the energy I feel when I'm in the building. I'm usually on campus during the late evenings and at night, so I don't always get to see many of my colleagues. It's nice when I see some of them, and my former students. 
AU SOC: What is your most memorable AU experience?  
Haynes: When I received the University Faculty Award for Outstanding Teaching in an Adjunct Appointment. It was nice to know that sharing my passion for public speaking with my students was seen and acknowledged. 
AU SOC: What is one thing you can't live without?   
Haynes: More than one thing...Access, options, kindness, joy, great experiences and adventure. 
AU SOC: What is a skill or talent most people don't know you have?  
Haynes: I am a poet. Not sure if a lot of people know that. My book, 'Cause I Was Feeling Mighty Free - A Collection of Poetic Rhythms and Rhymes is filled with my poetic thoughts and observations.  
AU SOC: Most memorable speech to date? 
Haynes: I regularly view a number of speeches and there's something special that stands out for me in each at that particular moment. 
AU SOC: If you could be any mode of transportation, what would you be and why? 
Haynes: A car, because I enjoy driving, and I could upgrade my model and style depending on my mood...smile. 
To learn more about Gillie Haynes, her career and public speaking tips, listen to the latest episode of Media in the Mix.  
LISTEN HERE: