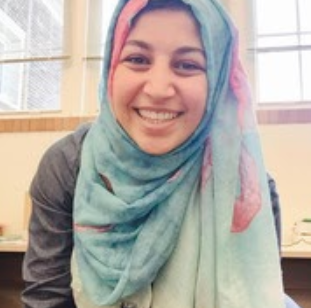 Tell me a little bit about yourself. 
I am 30 years old, born and raised in the southwest suburbs of Chicago. I am the oldest of five and have one sister and three brothers, in that order. I attended an Islamic all girls middle and High school before attending Benedictine University for undergrad. I am a first generation, high school, bachelors and masters graduate.
I studied Global Studies with a concentration in Middle Eastern Studies after having "changed" my major five times. I started undergrad convinced I was going to be a dentist. After graduation I was still exploring what my purpose in life was and took on multiple jobs and internships until I finally realized my favorite part of every experience I had was working with teens, and empowering them to speak up. That was when I realized I needed to become a teacher.
In 2015, I moved to DC to start my fellowship with TNTP's DC Teaching fellows. I taught ESL and College Summit (exploration/prep course) for 5 years.
Why did you enroll in the EPL program?
Teaching in DC can be exciting because of all of the new and innovative initiatives being introduced to the district. For the same reason, it can also be very exhausting. It constantly felt like a game of catch up because things were changing daily. Policies were being thrown at us from all sides, and it was hard to keep up. That is when I knew I wanted to go back to school and started looking into programs. I did not want to leave the classroom, I just wanted to have the ability to understand policy, to improve my trade, but also to effectively influence policy decisions as someone on the ground doing the work, and to be taken seriously.
What was most impactful for you as a student?
I was uncomfortable many times in class, and that is a GOOD thing. Professors created an environment that forced you to really ask yourself "WHY" and "HOW." I truly believe there is no growth without discomfort and I am grateful for the level of discomfort the professors provided. It allowed my purpose to evolve. My perspective on how I can be impactful - how I can support students - evolved. It is amazing how much my perspective was challenged and how quickly I started to reevaluate my approach to education.
What was your experience like working with faculty?
Faculty was very supportive and understanding. They were very responsive through email, and were always willing to meet before and after class, understanding that many of us were also working (teaching) full time and most times could not make it to regular office hours. And when everything went virtual because of COVID-19, every single faculty member seamlessly transitioned over and it did not feel like a loss of quality. I especially appreciated how the EPL faculty checked in before, during and after the transition to virtual spaces on our well being, not just on our academic standing. They saw us as a whole human being and treated us as such.
Tell us about your cohort?
My cohort was feisty, for a lack of a better word. Most of us were teachers, so we were skeptical about everything, I cannot think of a course where they did not attempt to directly challenge the professors — I lied, I do not think anyone would attempt to challenge Dr. Steele, because we all know not to mess with the STATA queen. But it was just that that made our time together so much more impactful, professors welcomed the challenges and that is where I felt I benefited most.
Tell us about your current job and how your degree helped you?
I am a Specialist for DCPS Persists (DC Public Schools) which is a new initiative aimed to increase the graduation rate of DCPS Alumni from 2 and 4 year institutions.
Last March, I began my transition out of the classroom; which is really shocking, because if you ask any one in my cohort they would remember how many times I emphasized I was not planning on leaving the classroom anytime soon. But an opportunity was calling that I could not pass up and having an EPL degree in my pocket gave me the credentials and skills I needed to get the interview but also to be productive and competent in my new job. It is still a HUGE learning curve transitioning from the classroom into a district specialist role, but I can say that I have already re experienced my EPL semesters 1-3 in the short time I have been on the new job. From project management to budget planning to writing briefs. It is all there.
What are your future goals?
That is a hard question to answer after overcoming two years of teaching full time and attending school! It feels like one of those "too soon" jokes.
I want to continue being as close to students as possible, so I hope to start teaching in higher ed in the near. I am currently interested in working within a community college setting, because of my background in ESL, but maybe one day I can add my name to the list of amazing faculty at AU! I have always had my eyes on a Doctorate.
What should EPL students know?
As annoying as it is to be taught 100 different ways to write a policy brief, I hate to say it, it is the reality of the work. Even within the same organization you will have differences in opinions on how it should be written and TONE MATTERS. The tone of writing really matters--you can't always write with the tone of your personal opinions but to take organizational/programmatic goals into account.