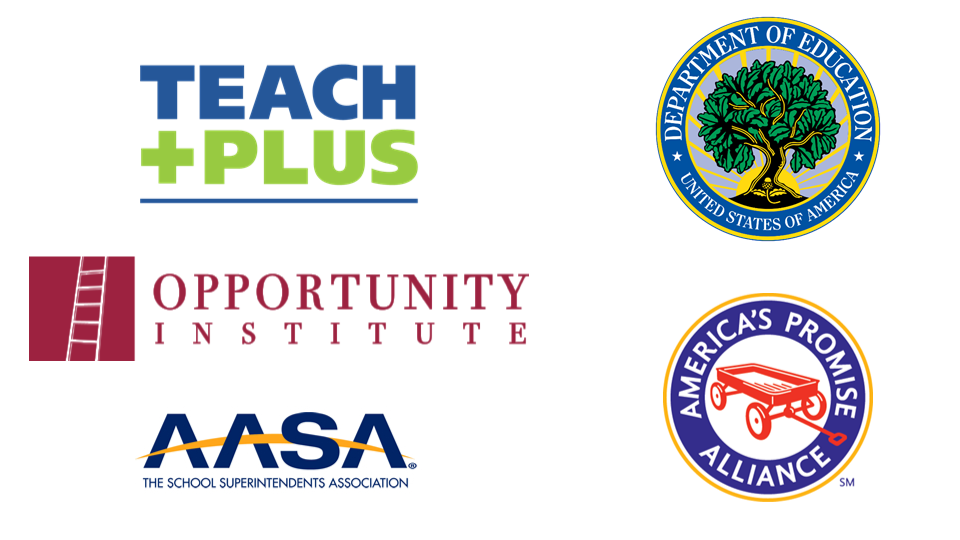 Education Policy and Leadership Program Distinguished Feature: Proseminar Course
By Reuben Jacobson
One of the distinguishing features of the Education Policy and Leadership program is the Proseminar course. Our extraordinary students utilize the skills and knowledge they have learned from their previous coursework – developing a research question, collecting and analyzing data and sources, critiquing and creating education policies, and pulling from real-world experiences – in order to make a meaningful contribution to an education organization seeking to create positive change for students.
Through this "capstone" course, all graduates develop the skill to provide effective leadership through collaboration, professionalism, management, and equitable practices.
AU is fortunate to work with incredible partners representing diverse perspectives.
TeachPlus, an organization that works with teacher leaders to develop and promote the policies teachers identify as most important, had students work with teams of teacher leaders in three states to create support for local policies around recruiting, supporting, and retaining teachers of color, clinical experiences for teacher training, and standards and qualifications of early childhood education teacher preparation programs.
A team working with the US Department of Education interviewed grantees about their two-generation approaches. Students used their research skills to analyze the interview data that will be used in a future federal report.
The Opportunity Institute, an equity-focused organization created out of President Obama's National Commission on Education Equity and Excellence, asked students to review school discipline disparities, practices, and policies, and make policy recommendations in three states.
Students working with America's Promise, first led by Gen. Colin L. Powell and then his wife, Alma, developed a strategy for the launch of a governor's council where these policymakers would be asked to demonstrate their commitment to youth.
Students working with AASA, the Superintendents Association, developed a literature review on the mental health of students in grades 7 – 12.
Proseminar projects lead to real educational change and help EPL students gain real world experiences they can use throughout their careers.
According to Kayla Jackson, a Project Director at AASA,
The work that was done by the AU students has been foundational to AASA as we look towards expanding our mental health portfolio in the coming year. The literature review provides the kind of information that we need, but don't have the time or bandwidth to research as we work on multiple initiatives. It was a joy to work with the AU students. They were always professional, always engaged and engaging. They shared how the research was informing their current practice in school and understood the importance of further work on mental health and school-aged students.
AU adds new partners each semester, as more well-prepared and capable students work to create real change, and fulfil our mission to create knowledge and prepare students to transform societies through education.
Education Law SCOTUS Watch – December 2019
By Jason Snyder
During the last year, the U.S. Supreme Court granted writs of certiorari to address two high-profile issues that could have a lasting effect on elementary and secondary schools. Even if the Court fails to add other education-law cases to its docket, the 2019-20 term could end up being remembered as one of the most consequential Supreme Court terms for schools in years.
Bostock v. Clayton County and R.G & G.R. Harris Funeral Homes v. Equal Employment Opportunity Commission
This first set of cases does not specifically involve schools but will likely have a significant effect on how schools protect LGBTQ+ students under federal civil rights laws. On April 22, 2019, the Court granted cert in Bostock v. Clayton County (consolidated with Altitude Express v. Zarda) and R.G & G.R. Harris Funeral Homes v. Equal Employment Opportunity Commission. These cases focus on whether employee discrimination based on sexual orientation and gender identity are included under Title VII of the Civil Rights Act of 1964.
Bostock and R.G. & R.G. Harris Funeral Homes both involve claims of employment discrimination. In Bostock, a child-welfare services coordinator, who is gay, alleges that he was fired because his fellow employees found out he participated in a gay softball league. The plaintiff in R.G. & R.G. Harris Funeral Homes is a funeral-home employee, who is a transgender woman. She would not comply with her employer's demand that she wear male attire while at work and claims she was fired because she is transgender.
The Court's decisions here are relevant for schools because the Court's interpretation of "sex" under Title VII will likely inform the Court's interpretation of Title IX, which covers discrimination based on sex in schools. For this reason, the decisions could have implications for whether Title IX protects students who are discriminated against based on their sexual orientation and gender identity. That outcome, in turn, might also effect what bathrooms transgender students can use and on which sports teams transgender students can compete.
The Court heard oral arguments on October 8, 2019. An interesting note on the oral arguments: The petitioner's counsel in Bostock was Stanford Law Professor Pamela Karlan, one of the four constitutional scholars who recently testified on impeachment in front of the House Judiciary Committee. Decisions in these cases are expected near the end of the term in May or June.
Espinoza v. Montana Department of Revenue
The second case addresses church-state separation and might determine, to a large extent, if public funds can – or even must – be used for religious schools if they are used for secular schools. On June 28, 2019, the Court grated cert to Espinoza v. Montana Department of Revenue. The case involves a Montana law that provides a tax credit for those donating to a scholarship program for students. Citing the no-aid provision in the Montana constitution that prevents "direct or indirect" funding of religious programs, the Montana Department of Revenue prohibited the scholarships from being used at religious schools. The petitioners, including Kendra Espinoza, sued because they were not allowed to use the scholarships to keep their children in Stillwater Christian School.
In this case, the Court is considering whether a state's decision to prevent a scholarship program from being used for religious schools, based on the state constitution's "no-aid" clause, violates the religion clauses and the Equal Protection Clause in the U.S. constitution. Thirty-seven state constitutions have no-aid provisions, which prevent state funds from being used for religious purposes.
This Court's decision will likely have wide-ranging implications for school-voucher programs and other programs that permit public funds to be used for students in religious private schools. Although the Supreme Court previously ruled in Zelman v. Simmons-Harris that the Establishment Clause does not forbid the use of school vouchers for religious schools, many state courts have rejected voucher programs because they violate the no-aid clauses in their state constitutions. If the Supreme Court holds that the education laws funding secular, but not non-secular, programs violate either the First Amendment's religion clauses or the Equal-Protection Clause, then it is likely that more religious schools will be eligible for school choice programs, like vouchers and tax credits for scholarship donations.
Oral arguments in the Espinoza case are set for January 22, 2020. Sounds like a field trip to me!
Jason Snyder is a Full Time Senior Professorial Lecturer in the M.Ed Education Policy & Leadership Program at American University School of Education. He received his JD from the University of California Berkeley, School of Law. His area of expertise is in education policy, education law, school improvement, and teacher leadership. To read more about Jason Snyder's background, please visit his profile here.
Intentional Networking
By Peter Weber
Okay. You are settled into your graduate school program. You have met your professors. You have your syllabus. You bought your books and maybe you have even started reading them. You have mapped out your assignments on your calendar. You have done all the stuff that makes you a successful student. Only here's the thing, that is not how you should be thinking of yourself at this point. 
Instead, you should be thinking about yourself as an education professional. 
You aren't in this program just to get good grades or to get to type a few extra letters after your name. You are in this program because you have a specific interest in education and because you want to make a difference. Unfortunately, if you just do the stuff that has historically made you a successful student, you are missing out on the chance to have a big impact.
So, on top of all that stuff that you already do as a good student, I have one more assignment for you – and it is likely the most important assignment that you will work on throughout your grad school career. You have to get to know as many people as possible in your field. 
Wait, don't stop reading! I know, I know. I hear you. It is painful. You probably have a full-time job. You might be an introvert. You feel awkward talking to people. You don't really have the time. You don't know what to say. I get all of that. 
And yet I insist that the most important thing that you can do for yourself while you are in graduate school – the thing that you can do that will provide you the greatest likelihood of making a real difference in the world, and the thing that is most likely to land the job that you are passionate about -- is talking to people.
When I say "people" I really do mean a wide variety of people. If you don't sit down with your professors at some point doing the semester to talk about your interests and ambitions, you are missing an opportunity. If you don't find at least one classmate who you get to know because she has an interesting perspective, you are missing out. If you have guest speakers in your class who talk about topics you care about and you don't follow up with them, you are not getting the full experience of graduate school. If you finish your ProSem and you never talk to your client enough to learn about their work, you are missing the point of the project. In short, you should look for every possible opportunity to connect with people who care about the same stuff as you. In a word, you should network. 
Networking is important, and networking is hard. The key is to figure out what you can do to make the painful process of networking more palatable for you. There are thousands of solutions to this problem. Here are my seven bits of advice.
Talk to a professor. Right now, pick one professor in the program and email him or her to ask to have a conversation. Pick a topic that is important to you and that you think that professor can help you with (e.g. "I love working in the classroom, but want to broaden my policy influence", "I want to start to explore school leadership positions, but don't know how to move forward", "I'm curious about what it is like working at different policy levels from the district level to the federal level"). Spend 20 minutes thinking through the topic ahead of time. Look at your professor's bio and LinkedIn page so you know about his or her experience. Make a list of questions that convey your interest and show you are prepared. There, you accomplished your first networking task.
Follow up with one guest speaker. Lots of professors bring lots of guest speakers to class. DC is the perfect place to do this. The city is full of folks who have deep expertise, and who care about the next generation of people working in the field. Decide right now that you are going to follow up with at least one guest speaker this semester. 
Expand your list. Every time you talk to someone, you have the opportunity to expand your network. Ask who else you should talk to. Ask for introductions. Follow up with the people you are introduced to.
Meet someone prominent. There are scores of prominent education people – from writers to district leaders – and most of them will want to engage with you. Over the course of this semester make a list of ten or more folks who are prominent and who are interesting to you. Find a way to introduce yourself to at least one of these people. It might not lead to much beyond a phone conversation, but it is excellent practice.
Have reasonable expectations. It is unlikely that your networking conversations are going to lead to a job. Keep in mind that your aim is to build a network that will help support you throughout your career, not to get a job offer right away. That is why you should start now. You want to network when you are not stressed about getting your next paycheck, not when you are desperate to find a job.
Don't forget that you belong. You are every bit as smart and talented as anyone else in the education policy world. Your experience is unique, and it qualifies you to thoughtfully engage with anyone. You should, of course, conduct yourself with humility, but you should not be meek or intimidated. Our children are going to be better off if your voice is part of the conversation.
Be incredibly thoughtful. While you are following all this other advice, remember this as well: the people who are helping you are spending time, energy, and their own capital to support you. They are happy to do it, but that will change quickly if you do not demonstrate respect. The people who offer up introductions for you are staking their reputations on you. That is not a small sacrifice. If you are introduced to someone, you have to follow up. If you schedule a meeting, you have to show up on time and you have to be engaged. 
Whether you are just starting your grad school career or you are on the home stretch, now is exactly the right time to build your network.

Pete Weber is an independent consultant, focusing on strategic planning and organizational development. His clients include school districts, charter schools, hospitals, and non-profit organizations. Pete earned a bachelor's degree in English and history from the University of Iowa and a Master's in Public Affairs from the Lyndon B. Johnson School of Public Affairs at the University of Texas.