Meet Jonathan Schwabish Economist and Data Viz Wiz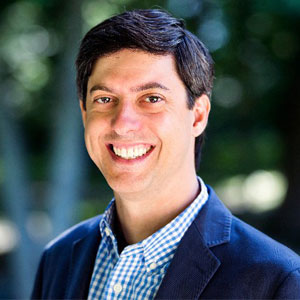 Jonathan Schwabish is an economist, author, consultant, and sought-after speaker. He also teaches data visualization and presentation skills at American University for the SPA Analytics and Management Institute.
For nine years Schwabish worked at the Congressional Budget Office where he analyzed policy issues from food stamp participation to Social Security reform. To make his data-heavy reports easier to digest, he used creative graphs, illustrations and color. Once lawmakers were showcasing his infographics at Congressional hearings to make their case for legislation, he knew he was on to something.
Schwabish has made it his mission to help people improve the way they communicate their data and research. He says that if you can't communicate your work, it doesn't help anyone. The key is to keep the audience in mind and present data in a dynamic way that can lead to a new insight or clarify a decision.
Schwabish is considered a pioneer in the data visualization field and is a leading voice for clarity and accessibility in research. He is the founder of the data visualization and presentation skills firm, PolicyViz. He helps organizations and individuals improve the way they work with and communicate data and analysis through workshops, lectures, webinars, freelance infographic design projects, and dataflow consulting. Schwabish has written about how to communicate social science research in more accessible ways. He was named a "visualization thought leader" by AllAnalytics in 2013 and a leader in the field by Mode Analytics in 2016. He speaks widely on the issues of data visualization, open data, and data use in organizations.
Schwabish, who has a master's degree from The Johns Hopkins and a master's degree and Ph.D. from Syracuse University, all in economics, is also a senior fellow at the Urban Institute. He is a researcher in the Income and Benefits Policy Center and a member of the Institute's Communication team. His economic research agenda includes earnings and income inequality, immigration, disability insurance, retirement security, data measurement, the Supplemental Nutrition Assistance Program (SNAP), and other aspects of public policy.
Schwabish can also be heard on air as host of The PolicyViz Podcast, a weekly podcast in which he interviews guests about data, data visualization, and presentation skills.
Schwabish is author of "Better Presentations: A Guide for Scholars, Researchers, and Wonks" (published by Columbia University Press).
Getting Your Point Across
His new course at AU, "The Power of Effective Presentations," will provide students with valuable information on optimal presentation techniques. Topics will include: design of slides and graphics, content, organization, style, and time allocation.
"The ability to communicate your ideas and your work is a pivotal skill to help change minds, convey your arguments, and affect change," says Schwabish. "In this class, I'll arm you with the skills and techniques to communicate your ideas in the most effective ways possible. Gone are the days of bullet points, clip art, and crazy animations, and instead welcome an era where people value and act upon your ideas and recommendations."