Journalism
In the Spotlight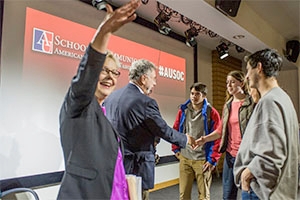 In the Oscar-winning movie Spotlight, actor Liev Schreiber portrays news editor Martin Baron as mild-mannered and unassuming. Yet even if he doesn't seek attention, Baron is certainly in, well, the spotlight these days. He appeared at American University's School of Communication event last week just before a trip to the Academy Awards ceremony in Los Angeles.
As depicted in Spotlight, Baron launched a Boston Globe investigation that exposed an extensive cover-up of sexual abuse within the priesthood of the Boston Archdiocese. At the "Movies That Matter" SOC event in the Doyle/Forman Theater, he spoke about covering the scandal and how it was adapted to the silver screen.
SOC journalism professor Jane Hall, who previously worked with Baron at the Los Angeles Times, moderated a discussion that included film clips and student questions. The Investigative Reporting Workshop and the Center for Media & Social Impact co-sponsored the event.
Watch clips from the Movies That Matter "Spotlight" event.

The Search for Truth
Many commentators have compared Spotlight to All the President's Men, and Baron hopes the movie educates the public about the value of investigative reporting. "It certainly resonated with journalists, who feel that it is an authentic portrayal of the work that they do," he said. "They appreciate that, especially at a time when the industry feels under siege."
Throughout the evening, Baron discussed the process of reporting such a big story. In one Spotlight scene, Baron's character insists that Globe reporters demonstrate how the church hierarchy manipulated a system so priests could evade criminal charges.
When Hall asked him to elaborate, he said they needed more than just a story about priests accused of abuse. "It would just look sensational," he said. "We needed to establish that this was the policy and practice of the archdiocese to cover-up." What set their investigative work apart from previous stories, he said, was getting access to incriminating church documents.
Upon taking his job at The Globe, Baron said the Boston community considered him an outsider. Since that time, people ask him why he turned his attention to the Catholic Church so early on in his tenure. "I didn't decide to pursue the Catholic Church. I decided to pursue a story," he explained.
As in the movie, the issue about priest molestation got his attention after reading a related Boston Globe column by Eileen McNamara. "At the end of the column, she said that the truth may never be known," he recalled. "To me, when somebody says, 'The truth may never be known,' that should be like chum to a journalist."
"Is everybody in my class listening?" Hall responded.
Adaptation
Baron provided a glimpse into how their work was adapted from page to screen. The filmmakers did their own exhaustive reporting to reconstruct how The Globe operated. They became even more familiar with some internal newsroom matters than he was at the time, he said.
"As an editor, when your stories are done, you don't go back and do a forensic analysis investigation of everything that transpired over those months. You don't go back and say, 'Ok, so when I arrived at The Globe, what did you think of me?'" he said, to laughter. He learned more after reading the screenplay.
"What did you find out?" Hall asked.
"I didn't know that there was any real [internal] resistance and recalcitrance, initially, to this proposed investigation," he answered. "It was interesting to hear about that 14 years later."
Baron revealed a fascinating tidbit about a plot point regarding The Boston Globe's earlier treatment of Catholic Church sex abuse allegations. Towards the end of the movie, The Globe's Walter Robinson (played by Michael Keaton) says that when he was at Metro years earlier, lawyer Eric MacLeish (Billy Crudup) sent a list to the paper of 20 accused priests. Robinson admits that he didn't remember receiving the list, and he laments that The Globe buried the information in a Metro story.
As Baron explained, in real life, these details weren't revealed contemporaneously: Director Tom McCarthy and co-writer Josh Singer interviewed MacLeish during the filmmaking process, and in doing so they discovered that he had sent the list.
"We miss stories all the time," said Baron. "That's what makes this movie so realistic. It doesn't really make the reporters out to be heroes," he noted, but "journalists out to be people who are at long last doing their jobs."
Social Media and the Fourth Estate
In one memorable Spotlight scene, Robinson rejects a reporter's desire to publish the story faster. He wanted the final article comprehensive, in keeping with Baron's call to get the entire system and not just individual priests. At the event, a student asked Baron if, in the age of social media, that would even be possible in 2016.
Hall posed that someone could have caught wind of the investigation and tweeted about it from the courthouse. "It's very difficult to sit on stories. It's not impossible, but it's difficult," Baron acknowledged.
In response to one student question, Baron talked about the need for editorial patience. "One of the riskiest things in journalism is what we don't know," he said. "The biggest embarrassment to come up is when you publish, and you discover that there was something that you did not ask, you did not pursue. And it undermines your story."
Baron, who is now executive editor at The Washington Post, continues to advocate for deep investigative reporting. "There's a lot of talk these days about the responsibility of the press," he said. "I believe the single most irresponsible thing we could do would be to abandon this kind of work, and to stop holding powerful interests accountable."