On Campus
Daring to Make a Difference: Strategists Talk Women in Politics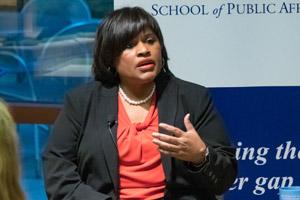 If you've ever considered getting involved in politics, Donna Brazile has some words of encouragement for you.
"Why you? Because there's no one better. Why now? Because tomorrow's not soon enough," said Brazile, the first black woman to manage a presidential campaign.
Brazile, along with co-authors and fellow political strategists Minyon Moore and Yolanda Caraway, came to American University to discuss their book For Colored Girls Who Have Considered Politics. The book, also co-written with Leah Daughtry, details the careers, personal histories, and friendships of four powerful black women who have worked in politics for over 30 years. The School of Public Affairs' Women & Politics Institute hosted the discussion, and it was moderated by WPI executive director Betsy Fischer Martin.
The co-authors covered a myriad of topics, like the need for adequate political representation, ensuring seats at the table, and the many metaphors of Reverend Jesse Jackson. They also referenced a "bank of justice" in politics and public service.
"The bank of justice is something that we believe is 24/7, [the idea] that you're always giving back and you're always paying it forward," Brazile said. "Every time we climb up, we send that ladder back down."
The lively event drew students from AU and neighboring universities, alumni from multiple generations, and former colleagues of the authors. Being part of the crowd felt like pulling up a chair to join a conversation between old friends. Unsurprisingly, they made sure there was room for anyone who wanted a seat.
'We Shall Not Be Moved'
The idea for the book began a few years ago, when a Hollywood producer suggested using their stories as the basis for a scripted drama, explained Caraway, who currently runs her own successful DC communications firm. A treatment was presented to Oprah Winfrey, and then a pilot was made. When the authors finally watched it, they saw a salacious affair: a preacher having an affair with the deacon of her church, and a woman leaking information to her journalist boyfriend. But nowhere did they see themselves.
"It wasn't us. It wasn't our story," Caraway said.
The show did not get made. But they still wanted to share their story, so they began writing it themselves. "Define yourself before someone defines you," Caraway added.
During the event they discussed the strong, smart women who mentored them—Shirley Chisholm, Maxine Waters, and Reverend Willie Barrow—and shared personal stories from their time working on the campaigns of Jesse Jackson, Al Gore, Barack Obama, and Hillary Clinton.
The title of the book came from one such story from Brazile. When she and Moore worked on the 1988 Michael Dukakis presidential campaign, they were told that senior leadership would have offices on the ninth floor and junior staff would have them on the eighth. The deputies, many of them female, did not like the idea of being separated. So, when staffers left for cocktail hour, they found a large, empty room on the ninth floor. They set up shop and put a sign on the wall that read: "The Colored Girls. We shall not be moved."
"Tell them whose room it was," pressed Caraway.
"Well, it was the chair of the campaign…We left a seat for him in case he wanted to sit with the colored girls," responded Brazile.
They were not moved. The room became not just a place for women of color, but for any women who wanted a seat at the table. Soon enough, the men showed up, too.
The Time to Hurry History Is Now
The history of women in politics has been a constant struggle, Brazile said, even as we approach the 100th anniversary of women's suffrage.
The first woman elected to Congress in 1916, Jeannette Rankin, often could only slip in legislation for women when legislation for animals came to the floor. Pat Schroeder, a US representative from 1973-1997, tucked early money for breast and ovarian cancer research into the defense budget.
While we've come a long way, we're still not there yet, Brazile said.
"It's almost as if we have forgotten that it took us until about the late 1970s and 80s to even have rules against sexual harassment. Equal opportunity standards for women in education didn't come about until the 1970s and 80s. We assume that women have had this door wide open. No."
That's why Brazile, Moore, Caraway, and Daughtry have spent years recruiting, mentoring, and encouraging women to get involved in the political process. Before Stacey Abrams was a household name, they raised money for her when she was House minority leader of Georgia.
Finding Your Place in Politics
Today, women of color comprise 36.3 percent of our nation's female population and approximately 18 percent of the entire US population, according to statistics from the Center for American Progress. Yet women of color only constitute 8.8 percent of the total 535 members of US Congress, 4.5 percent of the total 311 statewide elective executives, and 7.4 percent of the total 7,383 state legislators.
"We are underrepresented. We have political power we're not using—we're transferring it to other people who don't have our interests," said Brazile.
As they say in the book, you can't have representative government if the people aren't represented.
Moore believes that to get more women to run, we must lower the bar of intrigue in politics. You need the will to run, she said, and the ability to see yourself as qualified and capable. Women tend to be overly analytical, Moore explained. "We will think of everything we can't do before we think of what we can do."
Moore credited Hillary Clinton's 2016 presidential campaign for swinging open the door that's allowed "extraordinary women" to run for president in 2020.
For those considering politics, Moore stressed the importance of building coalitions and friendships, finding someone to lean in with, and staying connected to your communities.
"A lot of times when you get to the table, we think we are the table. Don't ever believe that," Moore said.
Caraway added, "get yourself a good squad. We've got the best right here."