Public Affairs, School of
4400 Massachusetts Avenue NW
Washington
,
DC
20016
United States
Welcome to the School of Public Affairs (SPA)!
Pursue your Higher Purpose with SPA!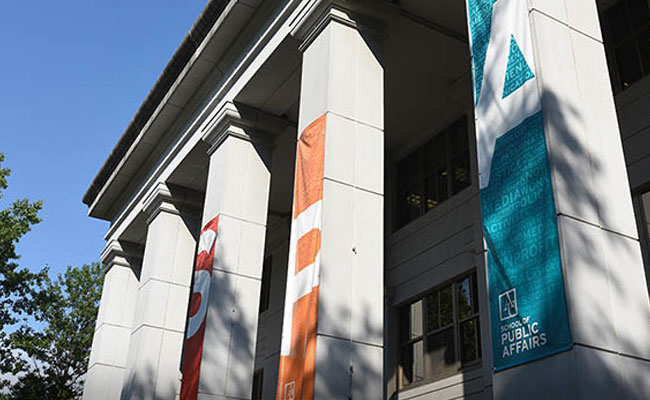 Congratulations on your commitment to pursue an advanced skill set that will position you as a leader with purpose for our next generation and, moreover, prepare you to confront the most pressing public challenges of our time.
Share with your family and friends that you are saying #YES2SPA. Tag us @AU_SPA and follow us on Twitter, Instagram, and Facebook.
To Login:
Note: Before you can login you will need to set up an account on AU system by going to https://myau.american.edu/ and clicking the "New students, faculty, and staff: Create your account" link. You will need to have your AUID number to do this.
On the blackboard.american.edu page click the blue "Login" button.
Enter your username and password. DO NOT type in @american.edu after your username or the login will fail.
Click the "LOG IN" button to access Blackboard environment.
You can reset an expired or forgotten password by clicking the "Reset an expired or forgotten password" link on this page.
Admitted Student Checklists
Required
✓ Celebrate your academic and professional achievements that led to your admission to one of the country's premier Public Affairs schools!
✓ Create an AU Student Account
✓ Submit your FAFSA (This information enables the American University Office of Financial Aid to consider you for Federal loan options.)
✓ Confirm your intention to join the SPA community by remitting your enrollment deposit.
✓ After rendering your deposit, schedule an in-person or telephone meeting with your Graduate Advisor! It is time to begin developing your academic plan that translates into your advanced skill set.
✓ Submit official transcript(s) showing successful completion of bachelor's degree before the first day of the term. If your transcripts are in a language other than English, certified English language translations must be provided. Mail to SPA Graduate Admissions, Office of Enrollment, 4400 Massachusetts Avenue NW, Washington, DC 20016-8081, USA or email official e-transcripts to GraduateAdmissionsDocuments@american.edu.
Recommended
✓ Connect and follow us on social media
✓ After submitting your deposit, you will be invited to join the 2017-2018 Facebook Group. (This offers a forum for you to get to know your new peers while engaging with our current Graduate Student Council (GSC) on issues like housing, internships, student life. The group is only open to students who have an American.edu email address.)
✓ Join us for a Virtual Topical Information Session. Please note the date and login information for our upcoming session on "How to Find a Job or Internship in DC."
✓ Visit American University's Off-Campus Housing site that offers access to living options in the area. The site also offers the opportunity to develop a student profile in an effort to identify potential roommates. Questions may be directed to offcampushousing@american.edu or via telephone 202.885.2645.
Important Information
Stay in touch...we are here to support you!
spagrad@american.edu
(202)885-6230
Use your AU email account only and always! All correspondence will now only be sent to your "name@american.edu" account. Please regularly monitor your inbox.
Explore the myAU.american.edu portal. It contains a wealth of information that will inform and support your student life on campus.
School of Public Affairs: SPA JumpStart (All Master's Programs)
Start: Thursday, June 21, 2018, 9:00 AM (EST)
End: Friday, June 22, 2018, 5:00 PM (EST)
Registration Close Date: June 18, 2018
Join us for SPA JumpStart
The School of Public Affairs (SPA) will host SPA Jumpstart that will offer a robust agenda that will cover two days on the beautiful American University (AU) campus. The agenda will be designed to cater to all of SPA's traditional, master's degrees and will "jumpstart" new students' academic, professional and social engagement in graduate student life. The agenda will offer a faculty panel addressing a current issue/topic, campus resource fair, housing bus tour, professional networking session, current student/alumni panel as well as a culminating social reception with skyline views of Washington, D.C. or on the banks of the Potomac (based on venue choice). SPA's Jumpstart offers Fall 2018 enrolled master's students an opportunity to further engage with: SPA faculty, staff and current as well as incoming students; campus and community resources; and their new Washington, D.C. home. The experience is sure to affirm for the SPA's incoming cohort that their graduate school choice was absolutely ideal!
All Fall 2018 enrolled SPA master's students are strongly encouraged to make plans to attend. More details including a detailed itinerary and travel logistics will be offered to registered students closer to the event.
Questions: SPA_GradEvents@American.edu
Date: August 23-25, 2018
Please save the date! Orientation is your opportunity to prepare for your new academic career, and have the opportunity to be introduced to the SPA faculty, student, and staff community. This event should be considered mandatory for all new SPA master's students beginning in Fall 2018. Additional details are forthcoming.
96 percent of SPA graduates are employed or in graduate school, or both